»

Recipes

»

Soup

»

Easter Potato Soup
Easter Potato Soup Recipe
I like this easy Easter Potato Soup recipe. It is absolutely delicious soup. It is generally made on Easter. This soup makes your Easter celebrations more enjoyable.Try this Easter Potato Soup recipe and brings joy to your home.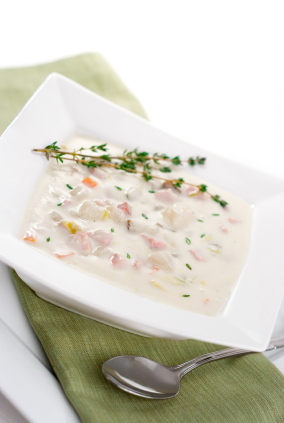 Ingredients
Salt

To Taste

Pepper

To Taste

Sour cream

2 Cup (32 tbs)

Cooked ham

1 1⁄2 Pound

Potatoes

5 Large

Cooked polish sausage

1 1⁄2 Pound

Buttermilk

2 Quart

Flour

2 Tablespoon

(Mixed With Water)

Horseradish

4 Tablespoon

, grated

Eggs

10
Nutrition Facts
Serving size
Calories 654 Calories from Fat 303
% Daily Value*
Total Fat 34 g52.4%
Saturated Fat 13.1 g65.3%
Trans Fat 0 g
Cholesterol 235.4 mg
Sodium 226.4 mg9.4%
Total Carbohydrates 44 g14.6%
Dietary Fiber 3.9 g15.6%
Sugars 6.6 g
Protein 44 g88.2%
Vitamin A 10.2% Vitamin C 266.6%
Calcium 16.7% Iron 16.3%
*Based on a 2000 Calorie diet
Directions
Stage1-Heat buttermilk on very low heat until cheese sets on top. Cool off and strain in a fine strainer.

Stage2-Use the watery part (whey) only. Take 10 cups water and cook potatoes in it.

Stage3-When the potatoes are boiled add sliced sausage, cubed ham, whey and horseradish.

Stage4-When the mixture starts boiling add flour to it.

Stage5-Add sour cream and bring to boil for 3 minute.

Stage6-Boil 10 eggs. Slice into the soup after soup cools off a little.

This is a wonderful recipe! The secret is the horseradish! Shanti/Mary-Anne
Posted on:
6 March 2008 - 3:11am