»

Recipes

»

Salad

»

Earthly Superfood Salad
Earthly Superfood Salad Recipe
This recipe is from HolidaysCentral's 2012 Oscar's Best Picture Inspired Menu, where you can get the full menu and other fun holiday ideas.

The Best Picture Nominee, The Tree of Life is a complicated film that is sometimes metaphysical, sometimes metaphorical and sometimes downright weird. But we chose a superfoods salad for this film, because of the earthiness of it and the healing aspects of superfoods that are just now beginning to be fully understood.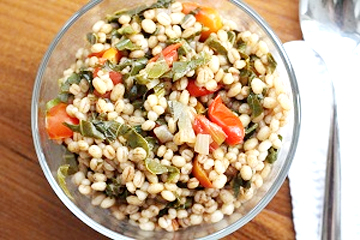 Ingredients
Olive oil

1 Tablespoon

1 small onion, choppeddf

Cherry tomatoes

2 Cup (16 tbs)

, halved

2 cups thinly sliced raw kale

Grains

2 Cup (16 tbs)

1/4 cup good quality balsamic vinegar

Olive oil

1/8 Cup (16 tbs)
Directions
In a large sauté pan, heat 1 Tablespoon of olive oil over medium heat. Add the onions and cook, stirring frequently, until translucent, about 4 minutes. Add the cherry tomatoes and kale and sauté until they start to soften, about 5 minutes more. Remove from heat and toss with the grains in a medium bowl.

In a small bowl, whisk together the balsamic vinegar and olive oil. Pour the liquids over the salad gradually, tossing to combine as you go. Add liquid just until the grains are evenly coated (you may not need all of the liquid). Refrigerate salad for at least an hour, and up to a day, before serving.