»

Recipes

»

Cookie

»

Drop And Bake Cookies
Drop and Bake Cookies Recipe
Drop and Bake Cookies may be a tricky affair. When you make such cookies, there is a risk of baking them unevenly. To solve this problem, use an ice cream scoop to drop evenly shaped cookies. This way they will bake evenly. This trick will definitely bake you drop and bake cookies perfectly.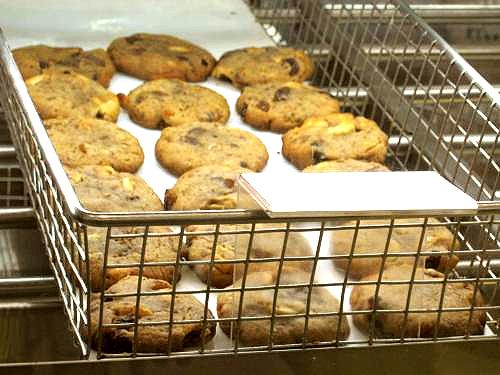 Ingredients
Seedless raisins

1 Cup (16 tbs)

Coconut

1⁄2 Cup (8 tbs)

, shredded

Citron

1⁄4 Cup (4 tbs)

Walnuts

3⁄4 Cup (12 tbs)

, chopped

Shortening

1⁄2 Cup (8 tbs)

Sugar

1⁄3 Cup (5.33 tbs)

Eggs

2

, separated

Sweetened condensed milk milk

2⁄3 Cup (10.67 tbs)

All-purpose flour

1 1⁄2 Cup (24 tbs)

, sifted

Baking powder

2 Teaspoon

Salt

1⁄4 Teaspoon

Vanilla extract

1 Teaspoon

Orange rind

1 Tablespoon

, grated
Nutrition Facts
Serving size
Calories 257 Calories from Fat 113
% Daily Value*
Total Fat 13 g20%
Saturated Fat 3.8 g18.9%
Trans Fat 0.9 g
Cholesterol 32.8 mg
Sodium 114.1 mg4.8%
Total Carbohydrates 33 g10.9%
Dietary Fiber 1.5 g6%
Sugars 19.4 g
Protein 4 g8.9%
Vitamin A 1.5% Vitamin C 4.3%
Calcium 10.7% Iron 7%
*Based on a 2000 Calorie diet
Directions
MAKING
1)Take a food processor container and put raisins, coconut, citron and walnuts and chop them with medium blade.
2)In a bowl, beat shortening and sugar together until light and fluffy.
3)Mix in egg yolks and milk.
4)In another bowl, sift together flour, baking powder and salt and mix it with creamed mixture and mix well.
5)Add vanilla, orange rind and ground fruits. Mix well.
6)In a small bowl, beat egg whites until stiff.
7)Add them to cookie mixture.
8)Take a greased baking sheet and drop spoonsful on it.
9)Bake in a hot oven at 400 degrees for 12 to 15 minutes.

SERVING
10)Serve drop and bake cookies when desired.