»

Recipes

»

Fritter

»

Dried Pear Fritters
Dried Pear Fritters Recipe
Dried Pear Fritters are simple and delightful treat for your taste buds. Combine the fritters with caramel, corn or maple syrup and enjoy them. Serve them hot.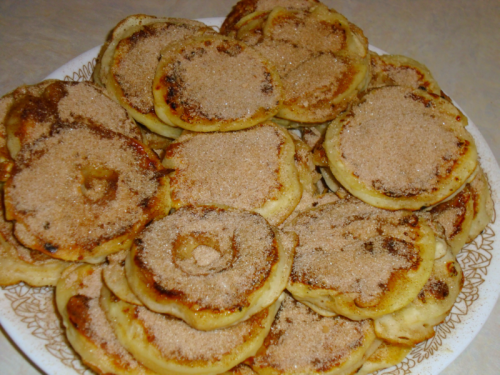 Ingredients
Pear

8

All-purpose flour-1/2 cup, sifted

Baking powder

1/2 Teaspoon

Sugar

1 Tablespoon

Salt

1/8 Teaspoon

Ginger

1/8 Teaspoon

Egg

1

Milk

1/4 Cup (16 tbs)

Butter/Margarine

1/2 Tablespoon

Shortening

2 Tablespoon

Lemon juice-to serve
Directions
GETTING READY
1)Wash pears, cut out any core or stem.
2)Soak overnight and drain well.

MAKING
3)In a bowl, sift flour, baking powder, sugar, salt and ginger.
4)In another bowl, beat egg, add milk and mix well.
5)Add to flour mixture and stir until smooth.
6)Add melted butter. Mix.
7)Dip pears in batter to coat well.
8)Take a frying pan, heat shortening and fry pears until brown from both sides.
9)Drain on absorbent paper.

SERVING
10)Serve with a little lemon juice and a sprinkle of confectioners' sugar on it.