»

Recipes

»

Scone

»

Dried Cherry Scones
Dried Cherry Scones Recipe
Scones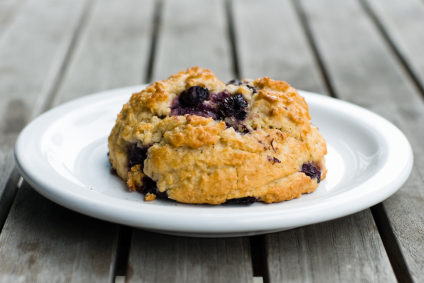 Ingredients
All purpose flour

1 1⁄2 Cup (24 tbs)

Sugar

7 Teaspoon

(2 Tablespoon Plus 1 Teaspoon)

Baking powder

2 Teaspoon

Baking soda

1⁄4 Teaspoon

Salt

1⁄4 Teaspoon

Unsalted butter

6 Tablespoon

, cut up (Cold)

Dried cherries

3⁄4 Cup (12 tbs)

Buttermilk

1⁄2 Cup (8 tbs)

Egg

1 Large

, separated

Water

1 Teaspoon
Nutrition Facts
Serving size: Complete recipe
Calories 1942 Calories from Fat 709
% Daily Value*
Total Fat 81 g124.1%
Saturated Fat 48.1 g240.4%
Trans Fat 0 g
Cholesterol 405 mg
Sodium 1699.4 mg70.8%
Total Carbohydrates 273 g90.9%
Dietary Fiber 9.8 g39.1%
Sugars 99.2 g
Protein 33 g66.6%
Vitamin A 63.9% Vitamin C
Calcium 90.7% Iron 72.8%
*Based on a 2000 Calorie diet
Directions
Preheat the oven to 375°F.
In a large bowl, stir together the flour, 2 tablespoons of the sugar, the baking powder, baking soda, and salt.
With a pastry blender or 2 knives used scissors fashion, cut in the butter until the mixture resembles coarse meal.
Add the cherries; toss to combine.
In a small bowl, stir together the buttermilk and egg yolk.
Pour the buttermilk mixture over the flour mixture and toss with a fork until a soft dough forms.
Transfer the dough to a lightly floured work surface and knead 6 or 7 times, or until a ball is formed.
Flatten the ball into an 8-inch round; cut into 8 wedges but do not separate the wedges.
Transfer to a 10-inch skillet.
In a small bowl, beat the egg white and water until the white is just broken up.
Brush over the round and sprinkle the top with the remaining teaspoon of sugar.
Bake until set and lightly golden, 18 to 20 minutes.
Cool 5 minutes in the pan, then separate into wedges and serve either warm or at room temperature.