»

Recipes

»

Dressing

»

Dressing For Salmon
Dressing For Salmon Recipe
Are you looking for a great Dressing For Salmon? Here it is!! Served as a topping over grilled salmon, this recipe is loved by all. Made with onion and celery, this dish is further flavored with herbs as well. A great side dish, you can get creative and add in some more ingredients of your choice too.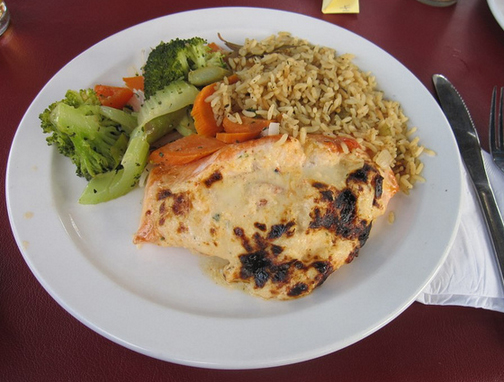 Ingredients
Onion

1 1⁄2 Cup (24 tbs)

, minced

Celery

2 Cup (32 tbs)

, diced

Butter

1⁄2 Cup (8 tbs)

, melted

Stuffed olives

2 Cup (32 tbs)

, chopped

Cooked rice

2 2⁄3 Cup (42.67 tbs)

Salt

1⁄2 Teaspoon

Pepper

1⁄2 Teaspoon

Sage

1⁄2 Teaspoon

Thyme

1⁄2 Teaspoon
Nutrition Facts
Serving size: Complete recipe
Calories 1986 Calories from Fat 1245
% Daily Value*
Total Fat 136 g209.1%
Saturated Fat 67 g334.8%
Trans Fat 0 g
Cholesterol 241.9 mg
Sodium 5974.4 mg248.9%
Total Carbohydrates 167 g55.5%
Dietary Fiber 10.8 g43%
Sugars 14.8 g
Protein 17 g33.7%
Vitamin A 83.2% Vitamin C 50%
Calcium 24.4% Iron 50.6%
*Based on a 2000 Calorie diet
Directions
MAKING
1) In a skillet add butter and heat.
2) Add in the onion and celery and sauté till tender.
3) Add in the remaining ingredients and mix well.

SERVING
4) Add over grilled salmon and serve.
Image Courtesy :
http://www.flickr.com/photos/mc_sensei/4924825559/