»

Recipes

»

Double Chocolate Cookies
Double Chocolate Cookies Recipe
Double Chocolate Cookies are quick to make simple cookies. They are kids favorite for sure and adults like them alike. This is a very easy and simple recipe for making double chocolate cookies just in case you are looking for one. Enjoy the cookies.
Double Chocolate Chip Cookies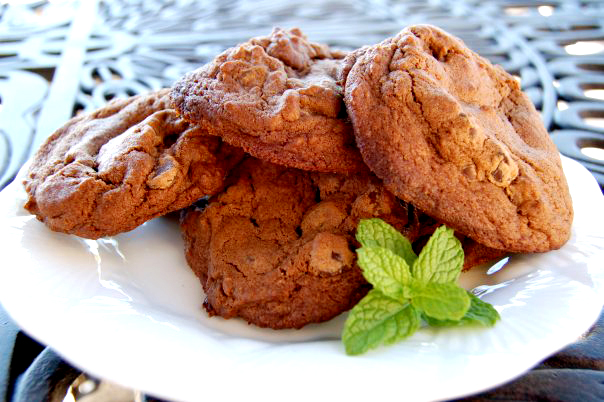 Ingredients
All purpose flour

130 Gram

, sifted

Baking soda

1⁄2 Teaspoon

Salt

1⁄2 Teaspoon

Sugar

1⁄2 Cup (8 tbs)

Brown sugar

1⁄4 Cup (4 tbs)

, firmly packed

Egg

1

Butter/Margarine

1⁄2 Cup (8 tbs)

Vanilla

1 Teaspoon

Nuts

1⁄2 Cup (8 tbs)

, chopped

Semi-sweet chocolate morsels

1 Cup (16 tbs)
Nutrition Facts
Serving size
Calories 175 Calories from Fat 89
% Daily Value*
Total Fat 10 g15.4%
Saturated Fat 5.3 g26.5%
Trans Fat 0 g
Cholesterol 22.7 mg
Sodium 99.7 mg4.2%
Total Carbohydrates 20 g6.8%
Dietary Fiber 0.43 g1.7%
Sugars 14.1 g
Protein 2 g3.6%
Vitamin A 3.1% Vitamin C
Calcium 0.9% Iron 1.9%
*Based on a 2000 Calorie diet
Directions
MAKING
1)In a bowl, sift together flour, soda and salt.
2)Add sugar, brown sugar, egg, butter and vanilla. Mix well.
3)In a pan on hot water, melt 1/3 cup of the chocolate morsels.
4)Cool and add to the flour mixture.
5)Add nuts and remaining chocolate morsels and mix.
6)Take ungreased baking sheet and drop the batter with teaspoons on it, about 2 inches apart.
7)Bake at 375 degrees for 10 to 12 minutes.

SERVING
8)Serve the double chocolate cookies.