»

Recipes

»

Cake

»

Double Chocolate Bundt Cake
Double Chocolate Bundt Cake Recipe
This Double Chocolate Bundt Cake is sheer temptation ! My salivary glands are bleeding already out of a longing for these extremely delicious Mocha Glazed treats ! Try this Double Chocolate Bundt Cake and let me know if you share my passion !
Chocolate Bundt Cake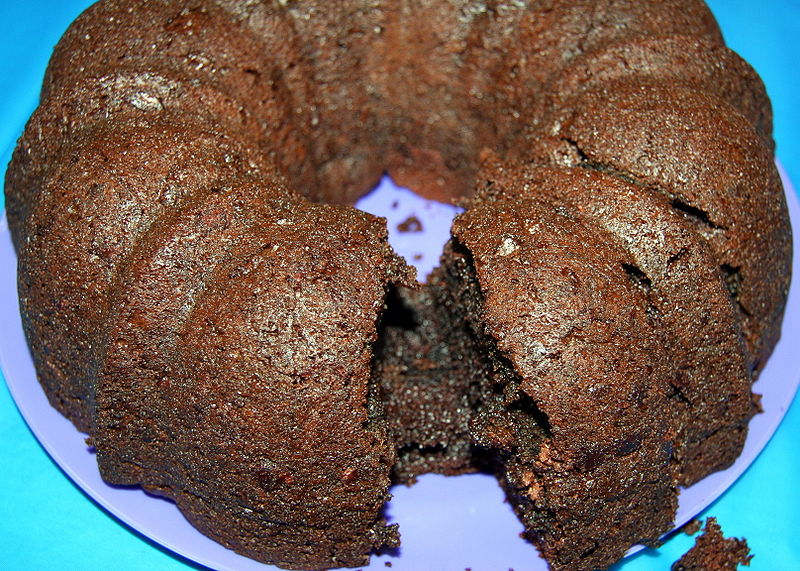 Ingredients
Non-stick cooking spray

1

All purpose flour

2 1⁄4 Cup (36 tbs)

Baking soda

1 1⁄2 Teaspoon

Baking powder

1⁄2 Teaspoon

Salt

1⁄2 Teaspoon

Unsweetened cocoa

3⁄4 Cup (12 tbs)

Instant espresso coffee

1 Teaspoon

Sugar

2 Cup (32 tbs)

Vegetable oil

1⁄3 Cup (5.33 tbs)

Egg whites

2 Large

Egg

1 Large

Unsweetened chocolate square

1

, melted

Vanilla extract

2 Teaspoon

Buttermilk

1⁄2 Cup (8 tbs)

Mocha glaze

1⁄2 Tablespoon
Nutrition Facts
Serving size: Complete recipe
Calories 4294 Calories from Fat 1044
% Daily Value*
Total Fat 134 g206.9%
Saturated Fat 21.1 g105.7%
Trans Fat 0 g
Cholesterol 211.5 mg
Sodium 3401.9 mg141.7%
Total Carbohydrates 743 g247.8%
Dietary Fiber 83.8 g335.4%
Sugars 407.5 g
Protein 86 g171.5%
Vitamin A 4.9% Vitamin C
Calcium 29.2% Iron 107.8%
*Based on a 2000 Calorie diet
Directions
Preheat oven to 350°F.
Generously spray 12 cup Bundt pan with nonstick cooking spray.
On sheet of waxed paper, combine flour, baking soda, baking powder, and salt.
In 2 cup glass measuring cup, whisk cocoa and espresso coffee powder into 3/4 cup hot tap water until blended; set: aside.
In large bowl, with mixer at low speed, beat sugar, oil, egg whites, and whole egg until blended.
Increase speed to high; beat until creamy, about 2 minutes.
Reduce speed to low; beat in cocoa mixture, melted chocolate, and vanilla.
Beating at low speed, alternately add flour mixture and buttermilk, beginning and ending with flour mixture.
Beat just until combined, occasionally scraping bowl with rubber spatula.
Pour batter into pan.
Bake 45 minutes or until toothpick inserted in center of cake comes out clean.
Cool cake in pan on wire rack 10 minutes.
With spatula or small knife, loosen cake from edge of pan; invert onto wire rack to cool completely.
Prepare Mocha Glaze if you like.
Pour glaze over cooled cake.