»

Recipes

»

French

»

Gratin

»

Dilly Cauliflower Au Gratin
Dilly Cauliflower Au Gratin Recipe
Dilly Cauliflower Au Gratin is a mouth watering side dish. An easy to prepare Dilly Cauliflower Au Gratin recipe wont let you forget its taste forever. So, give it a try and squander its taste!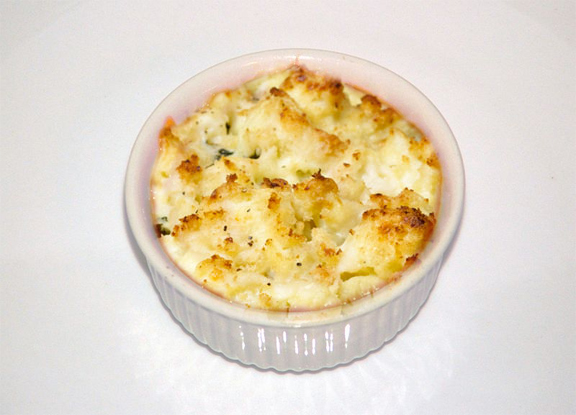 Ingredients
Cauliflower head

1 Medium

, trimmed and broken into flowerets

Butter/Margarine

1⁄4 Cup (4 tbs)

, melted

All purpose flour

1⁄4 Cup (4 tbs)

Milk

2 Cup (32 tbs)

Sharp cheddar cheese

1⁄2 Pound

, shredded

Fresh chopped dill/1/4 teaspoon dill weed

1⁄2 Teaspoon

Salt

1⁄2 Teaspoon

Pepper

1⁄8 Teaspoon

Dry bread slice

4

, cut into small cubes
Nutrition Facts
Serving size: Complete recipe
Calories 2153 Calories from Fat 1134
% Daily Value*
Total Fat 137 g210.8%
Saturated Fat 78.4 g391.8%
Trans Fat 0 g
Cholesterol 406.2 mg
Sodium 3442.5 mg143.4%
Total Carbohydrates 143 g47.6%
Dietary Fiber 24.9 g99.5%
Sugars 45.1 g
Protein 100 g200%
Vitamin A 91.4% Vitamin C 660.8%
Calcium 240% Iron 46.9%
*Based on a 2000 Calorie diet
Directions
Simmer cauliflower for 8 to 15 minutes in a small amount of salted water.
Blend butter or margarine with flour.
Gradually add milk.
Add Cheddar cheese to hot mixture; season to taste.
Cook, stirring constantly until thickened.
Put half of cauliflower into a 2-quart casserole; cover with half of cheese sauce.
Repeat layers.
Toast bread at 350° for 10 to 15 minutes or until browned.
Top casserole with toasted bread cubes.
Bake at 350° for 20 minutes.