»

Recipes

»

Indian

»

Aloo

»

Dahi Aloo
Dahi Aloo Recipe
Dhai Aloo has a fine taste. Dhai Aloo gets its taste from potatoes mixed with yoghurt and flavored with coriander leaves. Dhai Aloo is inspired in many food joints all over the world.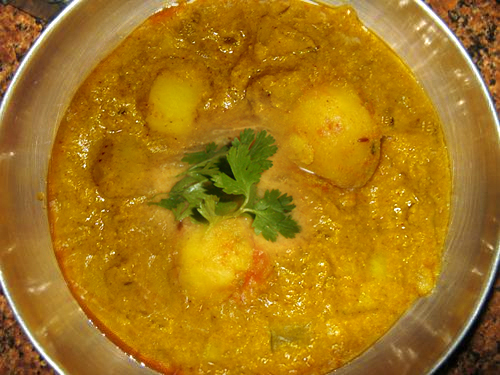 Summary
Difficulty Level
Easy
Cuisine
Indian
Ingredients
Oil

4 Tablespoon

Onion

1

, chopped

Ginger root piece

1 Inch

, peeled, finely chopped (2.5 Centimeter)

Ground coriander

1 Tablespoon

Green chilies

2

, finely chopped

Small new potatoes

675 Gram

Tomatoes

227

Raisins

100 Gram

Salt

To Taste

Natural yogurt

300 Milliliter

Chopped coriander leaves

2 Tablespoon

(Fresh, For Garnish)
Nutrition Facts
Serving size: Complete recipe
Calories 6352 Calories from Fat 1113
% Daily Value*
Total Fat 129 g198.6%
Saturated Fat 22.2 g110.9%
Trans Fat 0 g
Cholesterol 39 mg
Sodium 3141.4 mg130.9%
Total Carbohydrates 1255 g418.3%
Dietary Fiber 355.1 g1420.5%
Sugars 814.6 g
Protein 267 g533.8%
Vitamin A 4703% Vitamin C 6082.1%
Calcium 343.3% Iron 456.2%
*Based on a 2000 Calorie diet
Directions
Heat the oil in a large pan, add the onion and ginger and fry until soft.
Stir in the ground coriander and chillies and fry for 2 minutes.
Add the potatoes, stir well, cover and cook very gently for 5 minutes, stirring occasionally so they colour evenly.
Add the tomatoes with their juice, raisins and salt to taste and stir well.
Increase the heat a little and cook, uncovered.
As the liquid evaporates, add half the yogurt, a tablespoon at a time.
When the potatoes have cooked for 20 minutes and are just about ready, add the remaining yogurt, a tablespoon at a time, lower the heat and cook for 2 minutes.
Sprinkle with the coriander leaves to serve.