»

Recipes

»

Cake

»

Devils Food Cake
Devils Food Cake Recipe
Devils Food Cake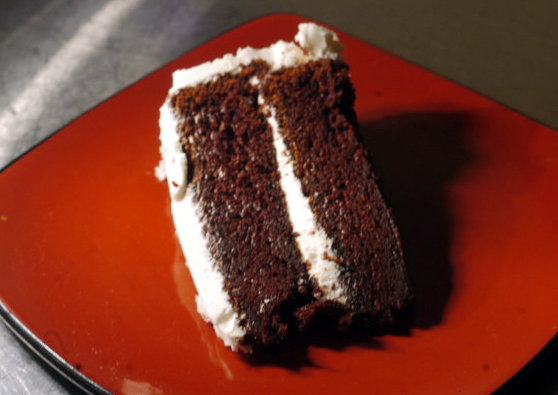 Ingredients
Sugar

2 Cup (32 tbs)

Unsifted all purpose flour

1 3⁄4 Cup (28 tbs)

Cocoa

3⁄4 Cup (12 tbs)

(Hershey'S)

Baking soda

1 1⁄2 Teaspoon

Salt

3⁄4 Teaspoon

Milk

1 2⁄3 Cup (26.67 tbs)

Shortening

1⁄2 Cup (8 tbs)

, melted

Eggs

3

Vanilla

1 Teaspoon

For mocha cream frosting:

Confectioners sugar

2 2⁄3 Cup (42.67 tbs)

Cocoa

1⁄4 Cup (4 tbs)

(Hershey'S)

Butter/Shortening

6 Tablespoon

Strong coffee

2 Tablespoon

Milk

3 Tablespoon

Vanilla

1 Teaspoon
Nutrition Facts
Serving size: Complete recipe
Calories 6224 Calories from Fat 2098
% Daily Value*
Total Fat 239 g367.9%
Saturated Fat 104.1 g520.3%
Trans Fat 13.5 g
Cholesterol 870.1 mg290%
Sodium 3953.8 mg164.7%
Total Carbohydrates 1051 g350.5%
Dietary Fiber 85.6 g342.3%
Sugars 738.4 g
Protein 103 g206.8%
Vitamin A 68.2% Vitamin C
Calcium 92.5% Iron 258%
*Based on a 2000 Calorie diet
Directions
GETTING READY
1. Butter two (9-inch) layer cake pans. Dust them with flour.
2. Into a large stand mixture bowl, sift flour with cocoa, baking soda and salt. Stir in the sugar.
3. In a measuring jar, combine milk, shortening, eggs and vanilla.
4. Preheat the oven to 375 degree F

MAKING
5. Add the liquid to the dry ingredients and beat for about 3 minutes.
6. Divide the batter between the cake pans.
7. Bake in the preheated oven for 25 to 30 minutes until the cakes are lightly browned and spongy to touch or until a skewer comes out clean
8. Remove the pans from oven and let cakes cool in pans for 5 minutes.
9. Invert cakes on wire racks and leave to cool complete.
10. To make the frosting for the Devil cakes, in a mixer bowl, combine butter and ½ cup cocoa.
11. Beat until light and creamy.
12. Add remaining cocoa and confectioner-€™s sugar gradually while beating constantly until the cream is thick and fluffy.
13. Add vanilla, strong coffee and milk while beating to adjust consistency of the frosting.

FINALIZING
14. Thinly slice tops of cake to even out.
15. Spread frosting on sliced surface and sandwich with other cake, sliced surface down.
16. Cover top and sides of cake with frosting.
17. Chill cake before serving.

SERVING
18. Slice into wedges and enjoy chilled as a dessert.