»

Recipes

»

Crab

»

Easy Deviled Crab
Easy Deviled Crab Recipe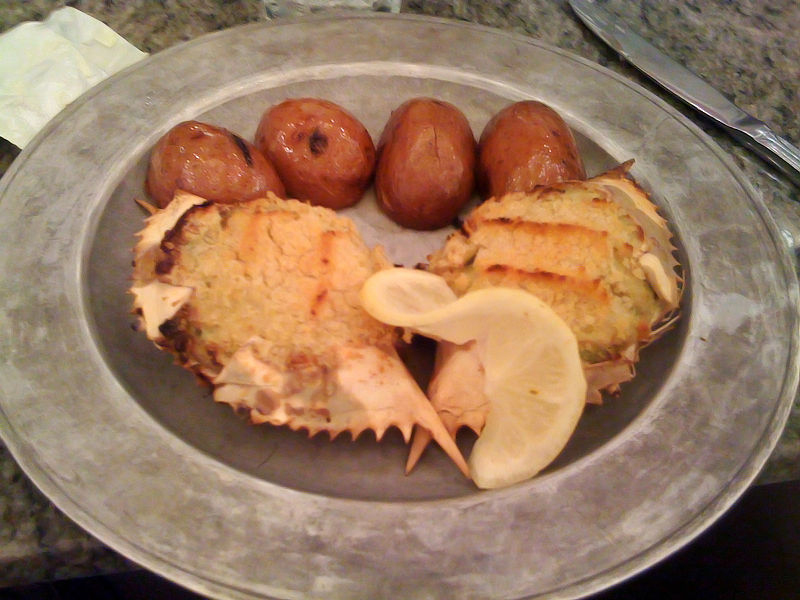 Ingredients
Flour

1⁄4 Cup (4 tbs)

Instant minced onion

2 Teaspoon

Cayenne pepper/Red pepper

1⁄8 Teaspoon

Dry mustard

1 Teaspoon

Powdered horseradish

1 Teaspoon

Salt

1 Teaspoon

Butter

1⁄4 Cup (4 tbs)

, melted

Milk

1 Cup (16 tbs)

Egg yolks

2

, beaten

Lemon juice

2 Teaspoon

Worcestershire sauce

1 Teaspoon

Crab meat

2 Cup (32 tbs)

Butter

2 Tablespoon

, melted

Soft bread crumbs

1 Cup (16 tbs)
Nutrition Facts
Serving size
Calories 225 Calories from Fat 130
% Daily Value*
Total Fat 15 g22.7%
Saturated Fat 8.7 g43.4%
Trans Fat 0 g
Cholesterol 96.4 mg32.1%
Sodium 404.4 mg16.8%
Total Carbohydrates 12 g4.2%
Dietary Fiber 0.39 g1.6%
Sugars 2.6 g
Protein 11 g21.4%
Vitamin A 10.3% Vitamin C 1.9%
Calcium 6.7% Iron 4.2%
*Based on a 2000 Calorie diet
Directions
GETTING READY
1) Preheat the oven to 400°F.

MAKING
2) In a bowl, mix the flour, onion, cayenne, dry mustard, powdered horseradish and salt together.
3) In a saucepan, add 1/4 cup of melted butter and stir in the flour mixture.
4) Cook until the mixture is bubbly, then remove from heat.
5) Stir in the milk and cook over a medium heat, stirring continuously, until thickened.
6) Spoon a little hot sauce to the beaten egg yolks, stirring briskly, then return the egg mixture into the saucepan.
7) Stir continuously and cook over a low heat for 2 minutes.
8) Remove from heat, stir in the lemon juice, Worcestershire sauce and crab meat; mix thoroughly.
9) In individual ramekins, custard cups or cleaned crab shells, spoon the crab mixture.
10) In a small bowl, combine 2 tablespoons melted butter and bread crumbs, then sprinkle over the crab mixture.
11) Bake in the preheated oven for 20 minutes, or until the crumbs are lightly browned.

SERVING
12) Serve the Deviled Crab, immediately as an appetizer.
Image Courtesy :
http://commons.wikimedia.org/wiki/File:Stuffed_crabs_Arnauds.jpg