»

Recipes

»

Cake

»

Easy Fruit Cake
Easy Fruit Cake Recipe
Easy Fruit Cake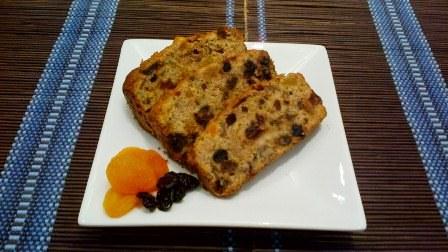 Ingredients
Butter/Margarine

1⁄2 Pound

Sugar

1 Cup (16 tbs)

Eggs

3

, beaten

Flour

2 Cup (32 tbs)

Baking powder

2 Teaspoon

Tepid water

1⁄2 Cup (8 tbs)

Raisins

1 Pound

Cherries

1⁄2 Cup (8 tbs)
Nutrition Facts
Serving size: Complete recipe
Calories 4930 Calories from Fat 1790
% Daily Value*
Total Fat 204 g313.1%
Saturated Fat 121.8 g609.1%
Trans Fat 0 g
Cholesterol 1122.1 mg
Sodium 1079.1 mg45%
Total Carbohydrates 765 g254.9%
Dietary Fiber 25 g100.1%
Sugars 479.2 g
Protein 61 g122.6%
Vitamin A 128.9% Vitamin C 25.6%
Calcium 114.6% Iron 135.1%
*Based on a 2000 Calorie diet
Directions
GETTING READY
1) Preheat oven to temperature of 325 degrees.

MAKING
2) Cream together the sugar and butter or margarine and add the eggs.
3) Sift in the baking powder and flour and then add the tepid water.
4) Mix the raisins with some flour in order to keep them separated and then add the raisins and cherries to the prepared mixture.
5) Use butter to rub a loaf pan and then dust with flour.
6) Put the batter in the pan and bake in preheated oven for 45 minutes on the oven's middle rack.

SERVING
7) Serve as preferred.

TIP
The quantities can be doubled to make 2 cakes. These store easily in the freezer of fridge.