»

Recipes

»

Chicken

»

Deep Fried Chicken
Deep Fried Chicken Recipe
Deep Fried Chicken has a Delicious taste. The chicken and egg gives the Deep Fried Chicken Miraculous taste.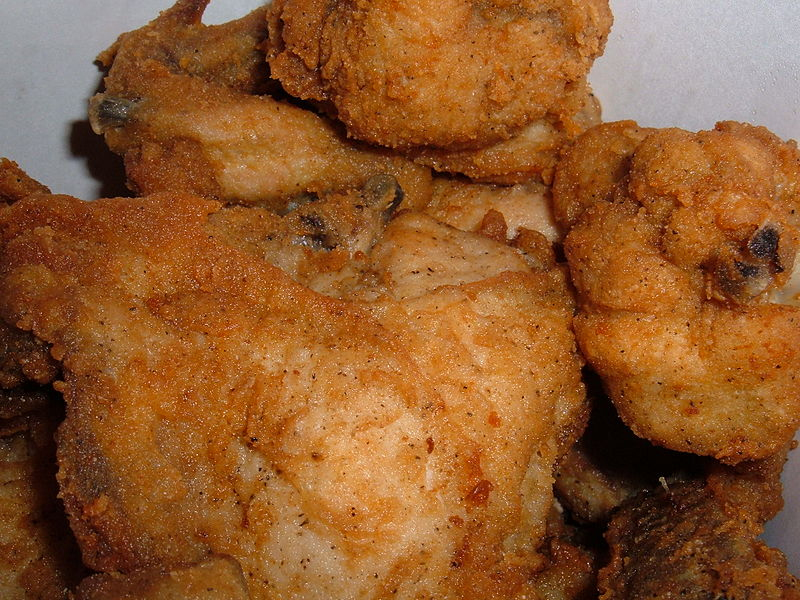 Ingredients
Frying chickens

1

, cut up

Water

1 Cup (16 tbs)

Egg

1

Milk

3⁄4 Cup (12 tbs)

Vegetable shortening

3 Tablespoon

, melted

Sifted flour

1 Cup (16 tbs)

Salt

1⁄4 Teaspoon

Vegetable shortening

2 Cup (32 tbs)

(For Deep Frying)
Nutrition Facts
Serving size: Complete recipe
Calories 4179 Calories from Fat 2363
% Daily Value*
Total Fat 264 g405.8%
Saturated Fat 73.8 g369%
Trans Fat 11.3 g
Cholesterol 1233.4 mg
Sodium 1603.3 mg66.8%
Total Carbohydrates 105 g34.9%
Dietary Fiber 3.4 g13.5%
Sugars 9.6 g
Protein 329 g657.3%
Vitamin A 38% Vitamin C
Calcium 40.3% Iron 103.8%
*Based on a 2000 Calorie diet
Directions
In a heavy pan with tight cover, place chicken on a rack; add the water and bring to boiling.
Reduce heat, cover and steam for 20 minutes, until tender.
Drain.
In bowl, combine egg and milk; add melted vegetable shortening.
Stir in flour and salt; beat until smooth.
Dip chicken pieces in batter; drain well on rack over waxed paper.
Place a few pieces of chicken in wire basket; lower into deep vegetable shortening heated to 375° .
Fry about 4 minutes or until golden.
Drain on paper toweling.
Repeat until all chicken is cooked.
Image Courtesy :
http://en.wikipedia.org/wiki/KFC