»

Recipes

»

Beef

»

Daube Of Beef
Daube Of Beef Recipe
Daube Of Beef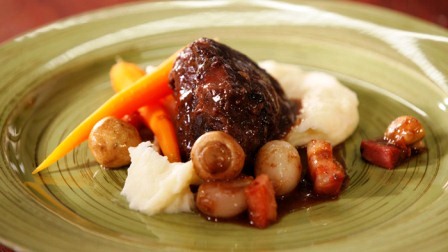 Ingredients
Top round beef

3 Pound

Carrots

1⁄4 Pound

, peeled and sliced lengthways

Chopped fresh oregano/1 teaspoon dried oregano

1 Tablespoon

Chopped basil/1 teaspoon dried basil

1 Tablespoon

Bacon slices

4

Tomatoes

3

, peeled, chopped

For marinade

Salad oil

1 Cup (16 tbs)

Onion

1

, peeled, chopped

Shallots

4

, peeled, chopped

Stalk celery

1

, cut into pieces

Carrot

1

, peeled and coarsely chopped

Dry red wine

1⁄2 Cup (8 tbs)

White peppercorns

6

Garlic

2 Clove (10 gm)

, crushed

Bay leaf

1

Thyme/1 teaspoon dried thyme

1 Tablespoon

Fresh marjoram/1 teaspoon dried marjoram

1 Tablespoon

Parsley sprigs

2
Directions
GETTING READY
1) In a skillet, put all the marinade ingredients and cook gently over low flame for about 10 to 15 minutes. Allow mixture to cool and pour it all over the meat in a large bowl.
2) Let the meat stand for 12 to 24 hours, occasionally piercing the meat and turning it over.
3) Preheat oven to temperature of 275 degrees.

MAKING
4) Put the meat in a casserole and add 1 cup of liquid taken from the marinade. Around the meat, arrange carrots and herbs and cover with bacon slices.
5) Tightly cover the casserole with foil and then put the lid on. Bake in preheated oven for about 1 ½ hours. Add in the tomatoes and cook for another 30 minutes.

SERVING
6) Serve hot with buttered noodles and green vegetables after adjusting the seasoning.