»

Recipes

»

Cake

»

Dark Fruit Cake
Dark Fruit Cake Recipe
This Dark Fruit Cake has a very strong flavor of Brandy Liquor.Dark Fruit cake is made with Pecan,dates,raisins & cinnamon.In this nutty Dark Fruit Cake orange juice adds to the fruity flavor & makes it all the more delicious.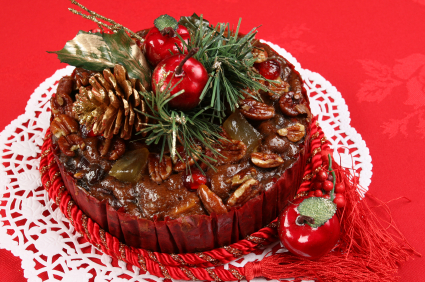 Summary
Preparation Time
10 Min
Cooking Time
4 Hr 10 Min
Ready In
4 Hr 20 Min
Difficulty Level
Medium
Ingredients
Citron/Candied fruit and peels

16 Ounce

Cherries

8 Ounce

Dark raisins

1 Cup (16 tbs)

Golden raisins

1 Cup (16 tbs)

Calmyra figs

1 1⁄3 Cup (21.33 tbs)

, cut into pieces

Dates

1 1⁄3 Cup (21.33 tbs)

, cut into small slices (pitted)

Pecan halves/Walnut halves

1 1⁄2 Cup (24 tbs)

Brandy

1⁄2 Cup (8 tbs)

White flour

3 Cup (48 tbs)

Baking powder

2 Tablespoon

Salt

2 Tablespoon

Cinnamon

1 Tablespoon

, ground

Nutmeg

1 Tablespoon

, ground

Allspice

1 Tablespoon

, ground

Cloves

1 Tablespoon

, ground

Eggs

4

Brown sugar

1 3⁄4 Cup (28 tbs)

Orange juice

1 Cup (16 tbs)

Butter

3⁄4 Cup (12 tbs)

, melted and cooled

Molasses

1⁄4 Cup (4 tbs)
Nutrition Facts
Serving size: Complete recipe
Calories 8758 Calories from Fat 2683
% Daily Value*
Total Fat 312 g480.3%
Saturated Fat 110.5 g552.6%
Trans Fat 0 g
Cholesterol 1208.8 mg
Sodium 14418 mg600.8%
Total Carbohydrates 1432 g477.3%
Dietary Fiber 114 g456%
Sugars 903.2 g
Protein 114 g228.6%
Vitamin A 134.6% Vitamin C 495%
Calcium 372.5% Iron 273.5%
*Based on a 2000 Calorie diet
Directions
Mix fruits together in a bowl. Pour brandy over fruits. Turn fruit
mixture over every 20 minutes. Soaking time is a matter of taste, but two
hours is typical. Preheat oven to 300 degrees F. Prepare tube pan: grease
sides and bottom. Line bottom and sides with greased brown paper.
In a very large bowl, mix flour, spices, baking powder and salt. Stir
until spices are evenly blended throughout.
In a third bowl beat eggs until fluffy. Add brown sugar, orange juice,
molasses and butter. Mix, making sure that all the sugar dissolves.
Pour off any liquid from fruit mixture and add the fruit and the nuts to
the dry ingredients. Mix until all fruit pieces are coated. Then pour in
the liquids and mix gently until you have an evenly-mixed batter.
Pour batter into pan and bake at 300 degrees F. for 1 hour. Cover pan with
foil and bake for 1 hour more or until toothpick inserted in center comes
out clean. Cool for 30 minutes before removing from pan. Peel off paper
very carefully.
Put cake in cake tin lined with foil. For the next 3 to 4 weeks, sprinkle
a little brandy over cake twice a week. Keep cake covered and store the tin
in the refrigerator. If you prefer to omit the brandy, cover top of cake
with very thin slices of apple instead.

Thank you!Hope you will try it too & let me know how did it turn out to be?
Posted on:
22 December 2007 - 5:03am

Looks absolutely delicious. Will recommend it to friends
Posted on:
22 December 2007 - 3:13am