»

Recipes

»

Bread

»

Dark Date Bread
Dark Date Bread Recipe
The dark date bread is a dessert bread made with flour, eggs and vanilla along with sugar. Baked with added nuts if so desired, the dark date bread is rich and luxurious to taste and has a lingering flavor.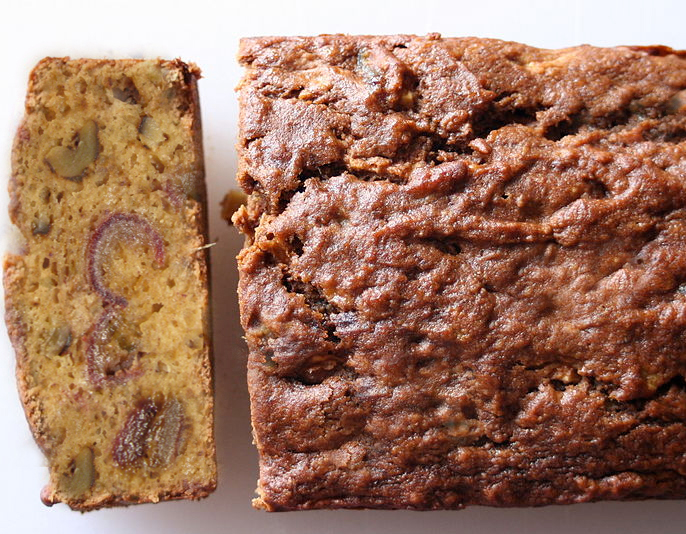 Ingredients
Dates

1 Cup (16 tbs)

, chopped

Soda

1 Teaspoon

Hot water

3⁄4 Cup (12 tbs)

All purpose flour

1 3⁄4 Cup (28 tbs)

Baking powder

1 Teaspoon

Salt

1⁄2 Teaspoon

Butter

1 Tablespoon

Sugar

3⁄4 Cup (12 tbs)

Egg

1

, beaten

Vanilla

1 Teaspoon
Nutrition Facts
Serving size: Complete recipe
Calories 2075 Calories from Fat 175
% Daily Value*
Total Fat 20 g30.7%
Saturated Fat 9.7 g48.3%
Trans Fat 0 g
Cholesterol 243.7 mg
Sodium 2820.7 mg117.5%
Total Carbohydrates 453 g150.9%
Dietary Fiber 20.2 g80.6%
Sugars 264.3 g
Protein 33 g66.8%
Vitamin A 12.7% Vitamin C 1.2%
Calcium 50.9% Iron 74.9%
*Based on a 2000 Calorie diet
Directions
To dates add soda and hot water and let stand.
Sift flour, baking powder and salt together.
Cream the butter and add sugar, beaten egg, then date mixture.
Add dry ingredients and vanilla.
Nuts may be added if desired.
Bake in a greased loaf pan at 350F for 40 to 50 minutes.
Image Courtesy :
http://commons.wikimedia.org/wiki/File:Loaf_of_banana_date_bread_with_a_slice_cut_off.jpg