»

Recipes

»

European

»

Danish

»

Danish Cucumber Salad
Danish Cucumber Salad Recipe
You will thank me for this Danish Cucumber Salad. My friend really liked this Danish Cucumber Salad recipe. You will savor it!
Cucumber Salad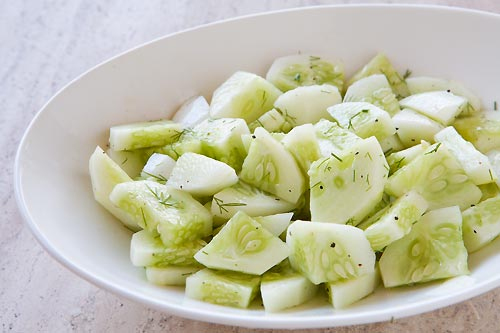 Ingredients
4 medium-sized cucumbers

Salt

To Taste

White vinegar

1/2 Cup (16 tbs)

Sugar

1/4 Cup (16 tbs)

2 tablespoons chopped dill

Pepper white

1/4 Teaspoon
Directions
1. Cut unpeeled cucumbers into paper-thin slices. In large bowl, mix cucumbers with 2 tea spoons salt. Let stand at room temperature 1 hour.
2. Drain cucumbers: Tip bowl over sink, pressing cucumbers with hand to drain as much liquid as possible. Stir in vinegar, sugar, dill, pepper, and 1 teaspoon salt until well mixed. Cover and refrigerate at least 3 hours.