»

Recipes

»

European

»

Danish

»

Danish Cucumber Salad
Danish Cucumber Salad Recipe
You will thank me for this Danish Cucumber Salad. My friend really liked this Danish Cucumber Salad recipe. You will savor it!
Cucumber Salad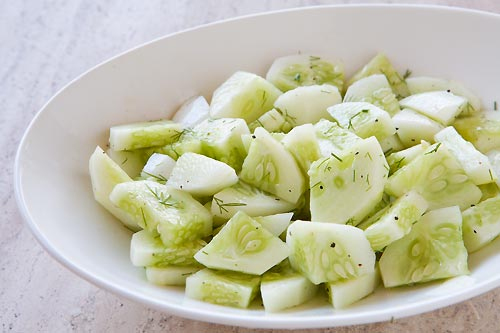 Ingredients
Cucumbers

4 Medium

Salt

To Taste

White vinegar

1⁄2 Cup (8 tbs)

Sugar

1⁄4 Cup (4 tbs)

Dill

2 Tablespoon

, chopped

White pepper

1⁄4 Teaspoon
Nutrition Facts
Serving size: Complete recipe
Calories 300 Calories from Fat 9
% Daily Value*
Total Fat 1 g1.6%
Saturated Fat 0.25 g1.2%
Trans Fat 0 g
Cholesterol 0 mg
Sodium 417.9 mg17.4%
Total Carbohydrates 75 g24.9%
Dietary Fiber 4 g15.8%
Sugars 60 g
Protein 5 g10.1%
Vitamin A 58.9% Vitamin C 70.9%
Calcium 16.2% Iron 21.4%
*Based on a 2000 Calorie diet
Directions
1. Cut unpeeled cucumbers into paper-thin slices. In large bowl, mix cucumbers with 2 tea spoons salt. Let stand at room temperature 1 hour.
2. Drain cucumbers: Tip bowl over sink, pressing cucumbers with hand to drain as much liquid as possible. Stir in vinegar, sugar, dill, pepper, and 1 teaspoon salt until well mixed. Cover and refrigerate at least 3 hours.