»

Recipes

»

Indian

»

Punjabi

»

Dal Makhani
Dal Makhani Recipe
Creamy Punjabi dal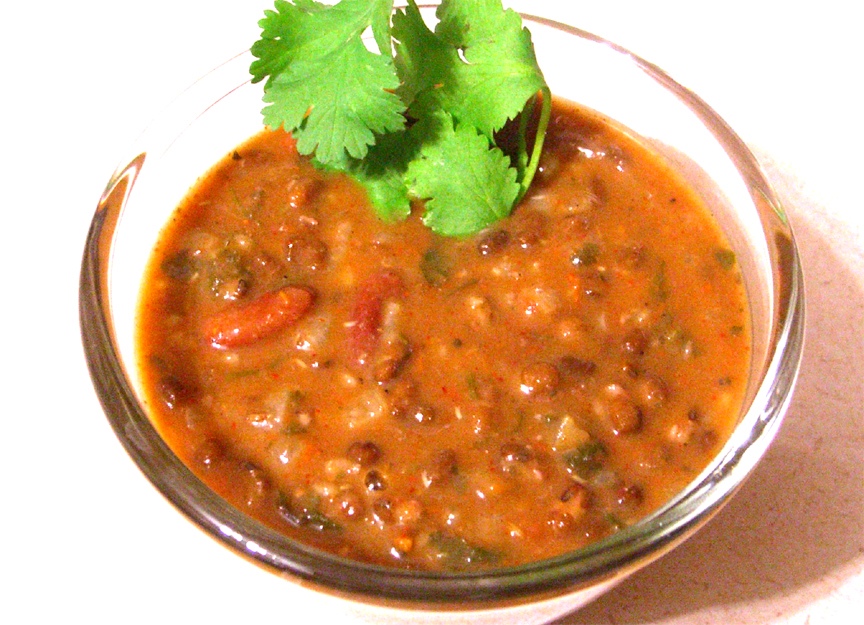 Summary
Preparation Time
10 Min
Cooking Time
20 Min
Ready In
30 Min
Difficulty Level
Medium
Health Index
Healthy++
Servings
4
Ingredients
| | | |
| --- | --- | --- |
| | Whole urad | 3⁄4 Cup (12 tbs) |
| | Rajma/Red kidney beans | 1⁄4 Cup (4 tbs) |
| | Red chili powder | 1 1⁄2 Teaspoon |
| | Garam masala powder | 1 Teaspoon |
| | Ginger garlic paste | 1 Tablespoon |
| | Chopped onions | 2 Medium |
| | Chopped tomatoes | 3 Medium |
| | Cumin seeds | 1⁄2 Teaspoon |
| | Butter/Oil | 3 Tablespoon |
| | Green chilies | 2 |
| | Kasoori methi | 1 Tablespoon |
| | Chopped cilantro | 1 Tablespoon |
| | Salt | To Taste |
Directions
Wash and soak the dals overnight. Puree the tomatoes.
Add salt to dal and pressure cook for 3 whistles. Simmer for 10 minutes.
Heat butter in a pan. Add cumin seeds.
When they crackle, add chopped onions and slit green chillies. Saute till golden brown.
Add ginger garlic paste and saute for few more minutes.
Add tomato puree and cook till the raw smell is lost.
Add red chilli powder and garam masala powder. Saute for about 2 minutes.
Add cooked dal and kasoori methi, bring it to a boil. Adjust the salt and consistency of the gravy.
Cover and simmer for 10-15 minutes.
serve hot with rice or roti garnished with chopped cilantro.

Yogi nd Anjana says :
Seem to be very good recipe and very siple. I am going to try with split urad dal. Keep on posting this type of simple recipes
Posted on:
21 November 2011 - 1:44pm

Ashok and Lalita says :
Pretty good recipe. I am going to try it with some variations (different Dals) tonight
Posted on:
30 December 2009 - 5:34pm

Dal and any of its variant is my favorite. Thanks for posting such a simple and delicious recipe.
Posted on:
25 March 2009 - 8:53am
Hi Vandana, I made dal makhani with whole masoor and rajma today and it came out very good. We liked it. Thanks for the suggestion.
Posted on:
10 March 2009 - 11:42pm
Thanks Shanti and Vandana. I love it too.
Posted on:
18 February 2009 - 11:43am

The Dal looks good delicious Sarita. I sometimes try the dal Makhani with a combination of the whole masoor dal and rajma too.
Posted on:
18 February 2009 - 12:35am

Dal/Dahl is like my favourite food! So many different ways to make it. YUM! Shanti/Mary-Anne
Posted on:
17 February 2009 - 2:51pm