»

Recipes

»

Indian

»

Dal

»

Dal Bati
Dal Bati Recipe
This Dal Bati recipe is one that you could try the next time you decide to have a barbecue. Hot Spicy dal served with roasted whole wheat dough, this is absolutely delicious and yes, healthy as I decided to use the grill instead of deep frying them.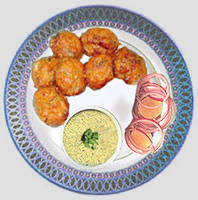 Ingredients
For the Bati ).. 2 cups wheat flour, 1tbsp rava, 4tbsp ghee, salt.
For the Dal )... 1/2 cup green moong dal, 1 tbsp chana dal, 1tbsp ghee, 3 cloves of garlic, 1/2 tsp each of garam masala,dhania,jeera and mustard,1/4 tsp haldi and 1tsp of chilli powder.
Directions
For the bati Mix everything together and knead into a tight dough. Shape in to a ball. Preheat the oven at 410 degrees. place the balls on a cookie sheet and let it roast till golden brown. Keep turning for even cooking..
Tip.. try this outside on the BBQ the results are amazing.
For the Dal..Wash and cook the dal with haldi and salt. Heat ghee in a pan and add the jeera and mustard. Add all the other spices along with the crushed garlic cloves. Simmer the dal for a while until the aroma fills your senses.
While serving add some lemon juice.
Serving suggestion::: The bati needs to be dipped in ghee ( omit to make low fat) Mash the bati and mix with dal to enjoy the dish.