»

Recipes

»

Indian

»

Vada
Dahi Vada Recipe
These Dahi Wadas are fabulous appetizers. These pulse fritters soaked in seasoned curds are favorite appetizers of both the north and South Indians. A much loved party fare, try out these dahi wadas for your next do and let me know if you like them !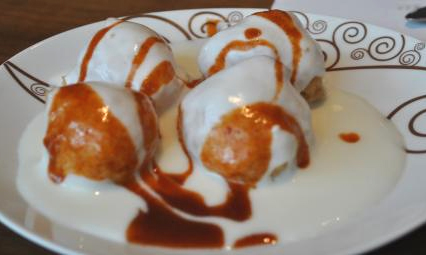 Ingredients
Urad dhal

1 Cup (16 tbs)

Raisins

20

, soaked

Salt

1 Teaspoon

Coconut

1 Tablespoon

, cut into fine pieces

Coriander seeds

1 Teaspoon

, roasted

Cumin seeds

1 Teaspoon

, routed

Ghee

2 Tablespoon

Coriander leaves

4

Curds

1 Cup (16 tbs)

Tamarind water

1 Tablespoon

Green chillies

3

, chopped
Nutrition Facts
Serving size: Complete recipe
Calories 1200 Calories from Fat 402
% Daily Value*
Total Fat 46 g70.8%
Saturated Fat 28.3 g141.6%
Trans Fat 0 g
Cholesterol 109.8 mg
Sodium 2137.6 mg89.1%
Total Carbohydrates 138 g46.1%
Dietary Fiber 37.3 g149.1%
Sugars 18.9 g
Protein 55 g109.6%
Vitamin A 77.4% Vitamin C 130.2%
Calcium 134.9% Iron 49.8%
*Based on a 2000 Calorie diet
Directions
Soak the dhal overnight,
Grind it the next morning with half a cup of water.
Add salt, coriander and cumin seeds, ginger, green chillies, raisins, coconut and coriander leaves.
Leave for an hour if possible.
Heat ghee in a frying pan.
Shape the dhal paste into flat cutlets (wadas) on the palm of your band and gently push them into the pan.
When fried they will puff out like pakoras.
Cool the wadas.
Soak in water for about an hour; squeeze out the water by pressing the wadas between your palms.
Put the wadas in beaten curd.
Season with salt and decorate with tamarind dots.
You can make the wadas a day in advance and keep them in the refrigerator.