»

Recipes

»

Indian

»

Dal

»

Dal Fry
Dal Fry Recipe
Its a pulse ( Daal ) recipe and nutritious.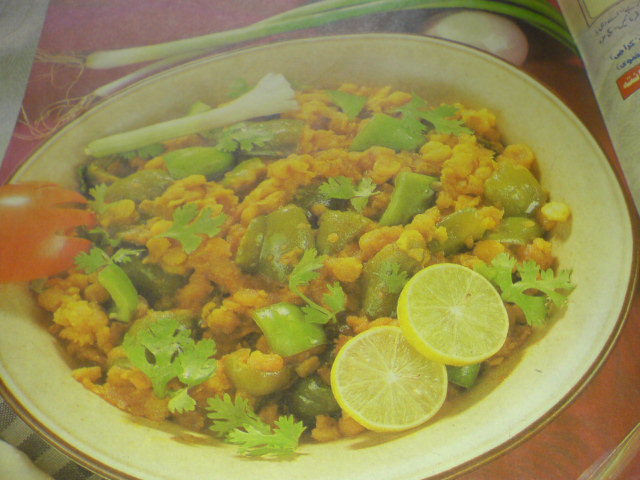 Recipe Story
Its my husband,s favourite,my husband like 2 much dishe from pulses
Ingredients
Chana dal

1⁄4 Kilogram

(Garam pulse)

Turmeric powder

1 Teaspoon

Red chilli powder

1 Teaspoon

Ginger garlic paste

1 Teaspoon

Salt

To Taste

Capsicum

1

, chopped in 1 inch cubes

Onion

2 Medium

, sliced, fried in butter

Butter

1 Tablespoon

(for frying onion)

Garam masala powder

1 Teaspoon

Beaten curd

1 Cup (16 tbs)

Chopped cilantro

1 Teaspoon

(Cilantro leaves for garnishing)
Nutrition Facts
Serving size
Calories 226 Calories from Fat 37
% Daily Value*
Total Fat 4 g6.6%
Saturated Fat 2.2 g11.2%
Trans Fat 0 g
Cholesterol 10.3 mg
Sodium 157.5 mg6.6%
Total Carbohydrates 36 g12.1%
Dietary Fiber 12.7 g50.9%
Sugars 8.8 g
Protein 13 g25.8%
Vitamin A 11.5% Vitamin C 45.2%
Calcium 10.2% Iron 14.4%
*Based on a 2000 Calorie diet
Directions
Soak the pulse 4-5 hour. Boil the puslse with water, Tumeric powder, Red chilli powder, Ginger Garlic paste & salt.
When pulse becomes tender add chopped Capcicum , spread very well finely beaten curd, and fried onion with the butter top of the pulse.
Keep it for five minutes low flame. Its ready to serve. Dish out and garnish with chopped coriender and Garam masala powder.
Its serve with Naan or Rice.

This is aterrific dahl recipe. I used maybe 4 or 5 long green Indian capsicums from the garden yummy! Shanti/Mary-Anne
Posted on:
14 November 2007 - 8:05pm
Snigdha u must try it will find a different & delicious .
Posted on:
26 October 2007 - 4:46pm