»

Recipes

»

Pie

»

Custard Pie With Crispy Crust
Custard Pie with Crispy Crust Recipe
This deliciously rich Custard Pie with Crispy Crust , is great to serve for any occasion. One of the most popular desserts ever, this Custard Pie with Crispy Crust will not only impress your guests, but will entertain you as well!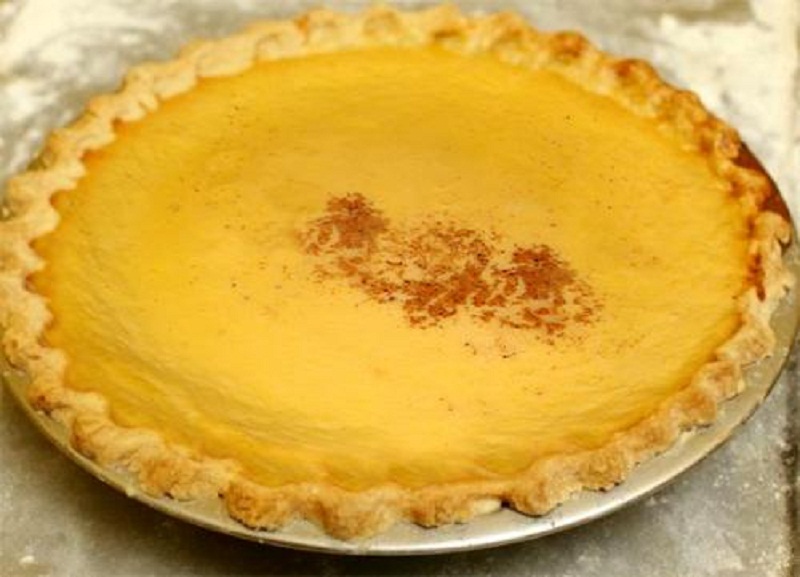 Ingredients
Eggs

4

, slightly beaten

Milk

2 1⁄2 Cup (40 tbs)

Sugar

1⁄2 Cup (8 tbs)

Vanilla

1 Teaspoon

Salt

1⁄2 Teaspoon

Nutmeg

1⁄8 Teaspoon

Baked pie shell

9 Inch
Nutrition Facts
Serving size: Complete recipe
Calories 1166 Calories from Fat 416
% Daily Value*
Total Fat 46 g71.1%
Saturated Fat 19.9 g99.5%
Trans Fat 0 g
Cholesterol 902.4 mg
Sodium 1602.9 mg66.8%
Total Carbohydrates 148 g49.3%
Dietary Fiber 0.51 g2%
Sugars 132 g
Protein 44 g88.6%
Vitamin A 31% Vitamin C 0.03%
Calcium 75.1% Iron 23.2%
*Based on a 2000 Calorie diet
Directions
Combine eggs, milk, sugar, vanilla, salt and nutmeg and blend well.
Strain into an oiled 9-inch pie pan.
Place pan in a shallow pan of hot water.
Bake in a moderate oven (350° F) about 35 minutes.
Cool to room temperature.
Loosen custard from sides of pan with a spatula.
Shake gently to loosen from pan.
Slide custard quickly into baked pie shell.
Makes one 9- inch pie.