»

Recipes

»

Custard, Baked With Coffee Jelly
Custard, Baked with Coffee Jelly Recipe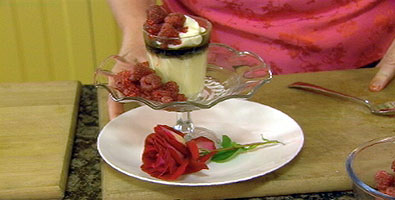 Summary
Preparation Time
1 Hr 0 Min
Cooking Time
30 Min
Ready In
1 Hr 30 Min
Difficulty Level
Easy
Health Index
Healthy
Servings
2
Ingredients
Egg yolks

60 Gram

Cream

120 Milliliter

Milk

60 Milliliter

Vanilla bean

1⁄2

Castor sugar

30 Gram

Strong black coffee/Espresso 2 double short blacks, cream removed, or a good quality instant coffee

80 Milliliter

Gelatin leaf

3⁄4

(2 Gms Gelatin Sheet)
Nutrition Facts
Serving size
Calories 443 Calories from Fat 105
% Daily Value*
Total Fat 11 g17.1%
Saturated Fat 5.5 g27.7%
Trans Fat 0 g
Cholesterol 377.4 mg
Sodium 153.9 mg6.4%
Total Carbohydrates 78 g25.8%
Dietary Fiber 0.5 g2%
Sugars 44.4 g
Protein 8 g16.3%
Vitamin A 11.4% Vitamin C
Calcium 20.6% Iron 4.6%
*Based on a 2000 Calorie diet
Directions
Pre-heat the oven to 160°C. Bring the cream, milk and vanilla bean to the boil, remove from the heat and allow to infuse for 15 minutes.

Beat the egg yolks and castor sugar together until thick and pale.

Scrape the seeds from the vanilla bean into the cream mixture and return to the stove to re-heat. Once re-heated, pour the hot cream mix over the egg yolks and sugar and stir until all the sugar has dissolved.

Divide the custard between 2 coffee cups & bake in a water bath for 35 – 40 minutes or until the custards are still a little wobbly. Remove for the oven and cool.
When the custards have cooled, put them in the fridge to chill.

Make the coffee and allow to cool slightly, but still warm enough to dissolve the gelatine. Pour a little cold water over the gelatine until it softens. Once soft, squeeze out the excess water and add to the tepid coffee and stir to dissolve. Let the coffee gelatine mixture cool and then gently pour the coffee mixture over the chilled custards and return to the fridge to set for at least an hour. (If you have a real sweet tooth you could add sugar to the coffee, however the custard already has sugar, so the dish is sweet already.)
If there is any crèma or froth on the top of the jelly, hold back the froth, because you want the jelly to 'shine'.
It's preferable to make the dessert up to the stage of adding the jelly the day before and then add the jelly on the day you plan to eat them.

Serve
Top with some whipped cream and with fresh raspberries spilling over the top on one side.