»

Recipes

»

Sauce

»

Eggless Custard Sauce
Eggless Custard Sauce Recipe
The Custard Sauce is a perfect addition to most of your fruit puddings. Trust me, you will realize that you made the right choice by taking this Custard Sauce recipe when you taste it for yourself! Just try it!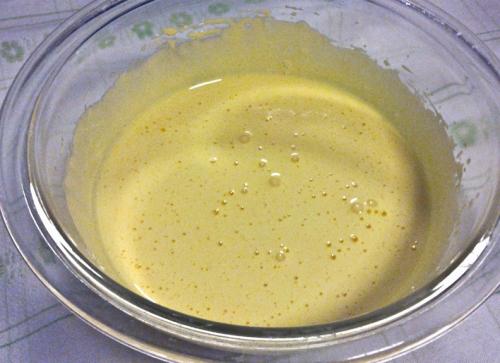 Ingredients
English dessert mix

2 Tablespoon

(birds)

Milk

2 1⁄2 Cup (40 tbs)

Sugar

2 Tablespoon

(firmly packed)
Nutrition Facts
Serving size: Complete recipe
Calories 477 Calories from Fat 165
% Daily Value*
Total Fat 18 g28.3%
Saturated Fat 10.5 g52.7%
Trans Fat 0 g
Cholesterol 56.5 mg
Sodium 226 mg9.4%
Total Carbohydrates 65 g21.8%
Dietary Fiber 1.3 g5.1%
Sugars 62.5 g
Protein 19 g39%
Vitamin A 11.5% Vitamin C 11.4%
Calcium 63.9% Iron 0.96%
*Based on a 2000 Calorie diet
Directions
1 Cream the custard powder with a little milk in a 900ml/1 1/2 pint (3 3/4 cup) bowl.
2 Pour the remaining milk into a 1 litre/1 3/4 pint (4 1/2 cup) jug and microwave on full power for 2 minutes.
3 Pour warmed milk onto mixed custard powder. Stir well and return to the jug.
4 Microwave on full power for 3-4 minutes. Beat in the sugar until it has dissolved.
5 Beat well with balloon whisk and serve.