»

Recipes

»

Indian

»

Curry Chicken Sandwiches
Curry Chicken Sandwiches Recipe
A taste of India comes to you in this sandwich with a curry and yogurt dressing.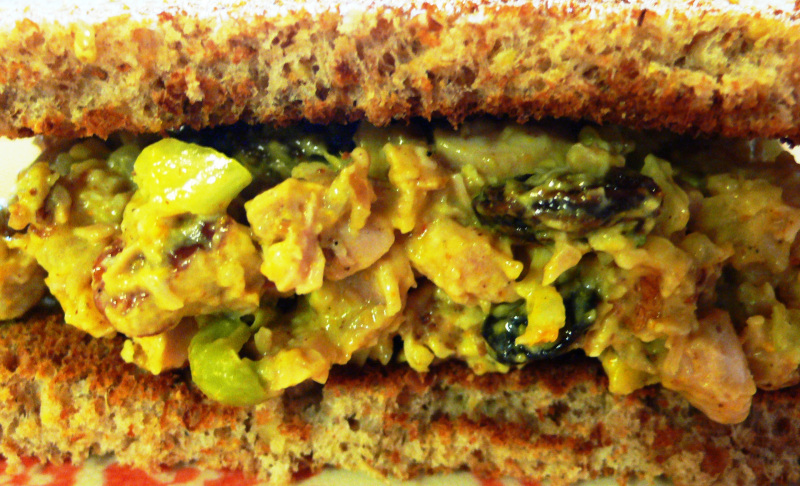 Ingredients
Butter/Margarine

1 Tablespoon

, melted

Lemon pepper

1⁄4 Teaspoon

Boneless skinless chicken breast halves

2

Salt

To Taste

Pepper

To Taste

Mayonnaise/Salad dressing

1 Tablespoon

Plain yogurt/Sour cream

1 Tablespoon

Curry powder

1⁄4 Teaspoon

Lettuce leaves

4

Kaiser buns/Hamburger buns

2

, split
Nutrition Facts
Serving size
Calories 379 Calories from Fat 140
% Daily Value*
Total Fat 16 g24.4%
Saturated Fat 5.2 g26%
Trans Fat 0 g
Cholesterol 72.3 mg
Sodium 626 mg26.1%
Total Carbohydrates 31 g10.5%
Dietary Fiber 1.8 g7.2%
Sugars 1.6 g
Protein 26 g52.4%
Vitamin A 34% Vitamin C 7.9%
Calcium 8.5% Iron 15.9%
*Based on a 2000 Calorie diet
Directions
1. Set oven control to broil. Mix butter and lemon pepper. Brush half of the butter mixture over chicken. Place chicken on rack in broiler pan.

2. Broil with tops 4 inches from heat about 4 minutes or until chicken just starts to brown. Sprinkle lightly with salt and pepper. Turn chicken; brush with remaining butter mixture. Broil about 5 minutes longer or until chicken is brown on outside and juices are no longer pink when center of thickest piece is cut.

3. While chicken is broiling, mix mayonnaise, yogurt and curry powder. Place lettuce on bottoms of rolls. Place chicken on lettuce. Top with dollop of mayonnaise mixture and tops of rolls.