»

Recipes

»

Yam

»

Curry Sweet Potato Latke Recipe With Maple Greek Yogurt
Curry Sweet Potato Latke Recipe with Maple Greek Yogurt Recipe
This recipe is also ridiculous. Ridiculously good! I have been a fan of curry and maple for quite sometime. Have you had my Curry and Maple Sweet Potato Soup? It's AMAZING! This recipe is basically that one, deconstructed, and slightly more Jewish.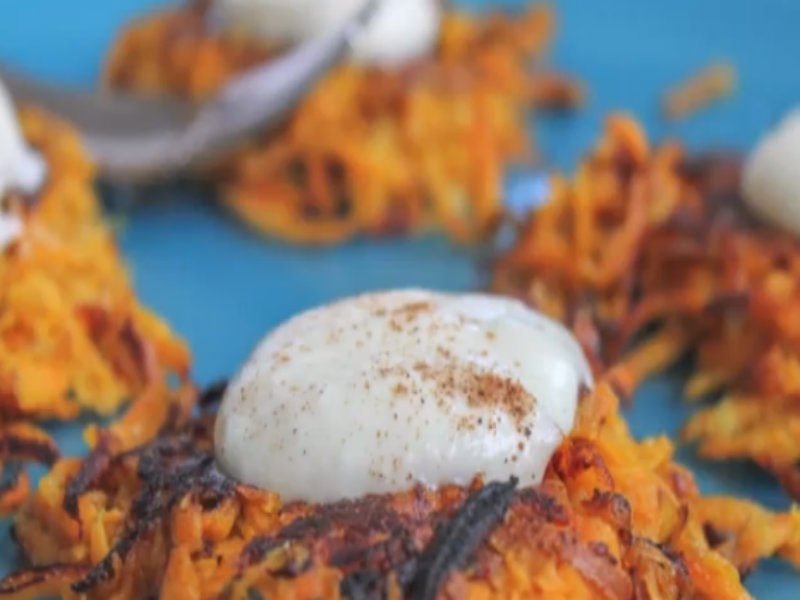 Summary
Preparation Time
20 Min
Cooking Time
15 Min
Ready In
35 Min
Difficulty Level
Medium
Health Index
Average
Servings
4
Ingredients
Sweet potato

2 Medium

Red onion

1⁄2 Large

, minced

Eggs

3

Flour

3⁄4 Cup (12 tbs)

Curry powder

1 Tablespoon

Salt

1 Teaspoon

Vegetable oil

1⁄8 Cup (2 tbs)

For the maple greek yogurt

Greek yogurt

6 Ounce

Maple syrup

1 Tablespoon
Nutrition Facts
Serving size
Calories 326 Calories from Fat 101
% Daily Value*
Total Fat 11 g17.5%
Saturated Fat 2.2 g11%
Trans Fat 0 g
Cholesterol 158.6 mg
Sodium 593.5 mg24.7%
Total Carbohydrates 44 g14.5%
Dietary Fiber 5 g19.9%
Sugars 10.6 g
Protein 13 g25.9%
Vitamin A 217.2% Vitamin C 8%
Calcium 12.5% Iron 18.8%
*Based on a 2000 Calorie diet
Directions
GETTING READY
1. Mince the onion and peel and shred the sweet potatoes as instructed.
MAKING
2. In a saute pan, add a little vegetable oil and lightly saute the onions and set aside.
3. In a mixing bowl, crack open the eggs and whisk them.
4. Add the flour to it, little by little, and get it incorporated.
5. Add the salt and curry powder and mix it in.
6. In the bowl of the shredded sweet potato, add the sauted onions.
7. Drop the curried egg flour mixture in it and combine with hands.
8. In a shallow saute pan, heat the vegetable oil.
9. Drop spoonfulls of the latke mixture and pat it down and fry them until crisp on either sides.
FINALIZING
10. For the Maple Greek Yougurt, in a bowl mix the greek yogurt with the maple syrup. Mix it in.
11. Finish off the and drain them on paper towels.
SERVING
12. On a plate, serve the latkes and top with the maple Greek yogurt mixture.
Recipe Courtesy of:
cookingstoned.tv