»

Recipes

»

Meatball
Curried Meatballs Recipe
Your search for a great recipe for Curried Meatballs ends here! When served over hot rice, this dish is sure to please your family members. The key ingredient here is beef, flavored with curry powder. Try it and i'm sure you will be making it more often!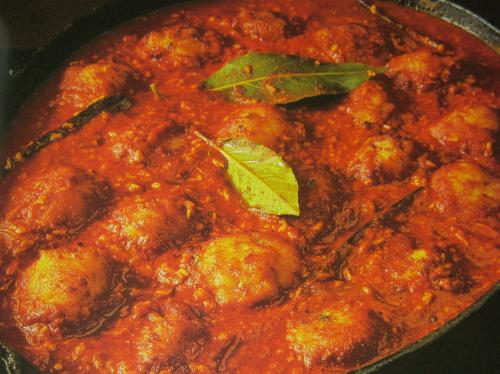 Ingredients
Ground beef

1 Pound

Butter

2 Tablespoon

Onions

3

, sliced

Flour

4 Teaspoon

Tomato juice

4 Cup (64 tbs)

Salt

1 Teaspoon

Pepper

1⁄4 Teaspoon
Nutrition Facts
Serving size
Calories 494 Calories from Fat 326
% Daily Value*
Total Fat 36 g55.9%
Saturated Fat 14.9 g74.6%
Trans Fat 0 g
Cholesterol 96.1 mg
Sodium 596.3 mg24.8%
Total Carbohydrates 24 g7.9%
Dietary Fiber 2.9 g11.4%
Sugars 12.9 g
Protein 23 g45.1%
Vitamin A 25.4% Vitamin C 85.9%
Calcium 5% Iron 13.8%
*Based on a 2000 Calorie diet
Directions
MAKING
1) Shape the ground beef into balls.
2) In a skillet, heat butter.
3) Add in the onions.
4) Slowly cook till the onions are soft, but not brown.
5) Add in the curry powder.
6) In a skillet, add the meatballs, cook over high heat for 15 minutes.
7) Stir in the flour.
8) Add in the tomato juice, salt, and pepper.
9) Simmer for 15 minutes.

SERVING
10) Serve over rice, with a side of chutney.