»

Recipes

»

Fruit

»

Curried Fruits
Curried Fruits Recipe
A good way to win some compliments from friends and family is to prepare Curried Fruits! It is important to use the freshest fruits available to get the right flavors in this curry. While this can certainly be enjoyed as an appetizer on its own, this goes great at the side of grilled meat.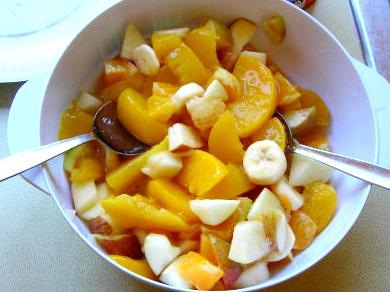 Summary
Preparation Time
15 Min
Cooking Time
45 Min
Ready In
1 Hr 0 Min
Difficulty Level
Very Easy
Health Index
Just Enjoy
Servings
8
Ingredients
Peach

1

Pineapple

1

, sliced

Pear

1

Butter/Margarine

1/2 Cup (16 tbs)

Brown sugar

3/4 Cup (16 tbs)

Cornstarch

1 Tablespoon
Directions
GETTING READY
1) Grease a casserole.

MAKING
2) Drain the fruits.
3) Add into a greased casserole.
4) In a saucepan, heat butter.
5) Blend in the sugar, cornstarch, and curry powder.
6) Add the curry mix over the fruits.
7) Place in the oven at 325 degrees for 45 minutes.

SERVING
8) Serve with grilled pork chops.