»

Recipes

»

Chicken

»

Curried Chicken Amandine
Curried Chicken Amandine Recipe
My love for Curried Chicken Amandine developed during high school days. This delicious main dish till date is still my favorite!! The main flavoring ingredient is the thyme, combined with the curry powder. Serve this with hot rice, and it's a meal you will never forget!!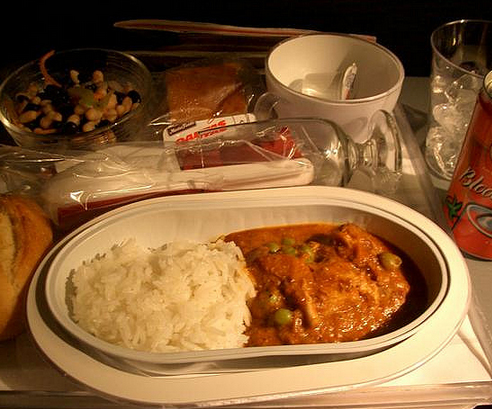 Ingredients
Chicken breasts

12

Seasoned flour

Garlic

2 Clove (5gm)

Onions

4 Medium

, chopped

Green peppers

2 To taste

Tomatoes

1

Salt

1 Teaspoon

Pepper

1/2 Teaspoon

Thyme

1/2 Teaspoon

(Curry powder - 1 tsp.)

Cayenne pepper

1 Dash

(Curry powder - 1 tsp.)

Blanched almonds

2 Ounce

(Curry powder - 1 tsp.)
Directions
MAKING
1) Coat the chicken with the seasoned flour.
2) In a skillet, heat deep fat.
3) Add in the chicken and fry till golden brown.
4) Place in a Dutch oven.
5) Add 1/2 cup hot water.
6) Place a lid over and gently heat.
7) Steam for about 15 minutes.
8) In a saucepan, heat little fat.
9) Add in the garlic, onions, and green peppers and fry til lightly browned.
10) Add in 1/2 cup water and cook for 15 minutes.
11) Stir in the tomatoes, salt, pepper, curry powder, thyme and cayenne pepper.
12) Cook till well heated.
13) Add over the chicken and cook for 1 hour, till the chicken is tender.
14) Add in the almonds.

SERVING
15) Garnish with parsley.
16) Goes great with hot rice!!
Image Courtesy :
http://www.flickr.com/photos/avlxyz/16327048/