»

Recipes
Curried Asparagus Recipe
Curried Asparagus is a simple recipe which always tastes delicious! Since the focus of the dish is the asparagus, ensure you get really fresh ones, or the dish will not turn out the best. With the other ingredients being just as easy to procure, this recipe is a must-try.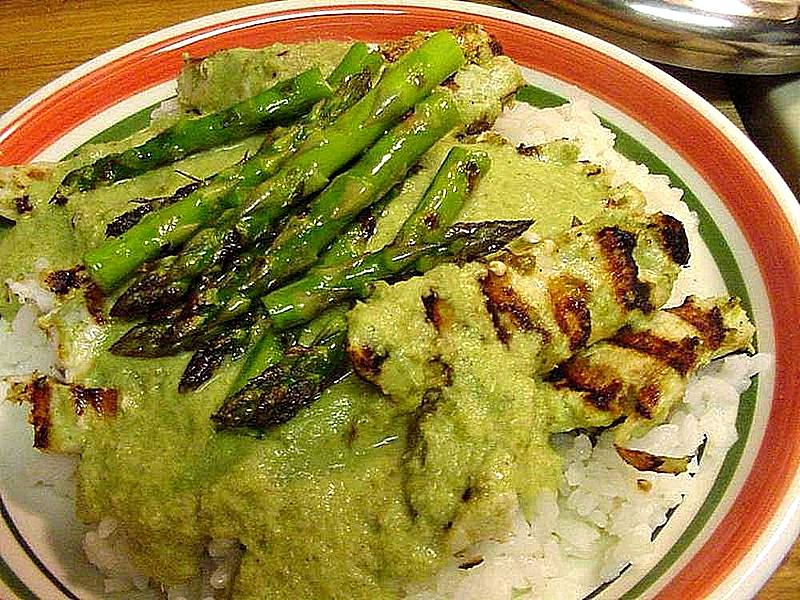 Ingredients
Asparagus

2 1⁄2 Pound

Boiling salted water

4 Cup (64 tbs)

Butter/Margarine

1⁄4 Cup (4 tbs)

Green onions

3 Tablespoon

, chopped

Salt

1⁄2 Teaspoon

Flour

1⁄3 Cup (5.33 tbs)

Milk

2 Cup (32 tbs)

Romano cheese

1⁄3 Cup (5.33 tbs)

, grated
Nutrition Facts
Serving size: Complete recipe
Calories 1193 Calories from Fat 627
% Daily Value*
Total Fat 71 g109.4%
Saturated Fat 43.6 g217.8%
Trans Fat 0 g
Cholesterol 200.8 mg
Sodium 1581.2 mg65.9%
Total Carbohydrates 104 g34.8%
Dietary Fiber 26.5 g106.1%
Sugars 46.4 g
Protein 56 g111.4%
Vitamin A 247.6% Vitamin C 140%
Calcium 118.5% Iron 152.7%
*Based on a 2000 Calorie diet
Directions
MAKING
1) Diagonally cut the asparagus into 1/2-inch pieces, keeping aside 3 spears for garnish.
2) Place in a large shallow pan and cover with boiling salted water.
3) Place over high heat till the water resumes boiling, then lower heat.
4) Allow to simmer for 8 minutes, till the asparagus is tender but still crisp.
5) Drain well.
6) In a saucepan, heat butter.
7) Add in the onions, curry powder, and 1/2 teaspoon salt.
8) Gently cook till the onions are tender.
9) Blend in the flour, slowly adding in the milk.
10) While stirring, cook over medium heat for 10 minutes, till the sauce thickens.
11) Add in the asparagus.
12) Turn into a shallow 1 1/2-quart baking dish.
13) Garnish with the reserved asparagus spears.
14) Sprinkle with cheese.
15) Place in the oven and bake at 425 degrees for 15 minutes.

SERVING
16) Sprinkle with additional cheese and serve hot.
Image Courtesy :
http://commons.wikimedia.org/wiki/File:Thai_curry_grilled_asparagus.jpg