»

Recipes

»

Curried Vegetables
Curried Vegetables Recipe
You will definitely thank me for sharing this Curried Vegetables recipe. This Curried Vegetables recipe is truly a good one. Do give a try! This is one of my favorite curry's.
Vegetable Curry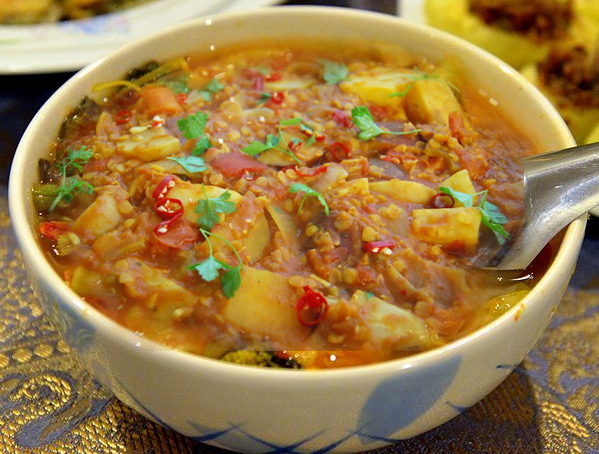 Ingredients
Water

1 Cup (16 tbs)

(Adjust Quantity As Needed)

Green beans

1 Pound

, each cut into half

Eggplant

1 Small

, cut into 1 1/2 inch chunks

Salad oil

7 Tablespoon

Onions

3 Medium

, quartered

Green peppers

2 Medium

, cut into 1/2 inch wide strips

Carrots

2 Large

, thinly sliced

Curry powder

1 Tablespoon

Salt

1 1⁄2 Teaspoon

Tomatoes

2 Medium

, cut into wedges
Nutrition Facts
Serving size: Complete recipe
Calories 1631 Calories from Fat 971
% Daily Value*
Total Fat 110 g169.4%
Saturated Fat 5.9 g29.4%
Trans Fat 1.9 g
Cholesterol 0 mg
Sodium 3095.1 mg129%
Total Carbohydrates 156 g52.1%
Dietary Fiber 55.5 g221.9%
Sugars 61.7 g
Protein 27 g53.4%
Vitamin A 549.4% Vitamin C 560.2%
Calcium 34.9% Iron 48.4%
*Based on a 2000 Calorie diet
Directions
1. In 5-quart Dutch oven or saucepot over high heat, in 1 inch boiling water, heat green beans to boiling. Reduce heat to low; cover and simmer 10 minutes, stirring occasionally, or until beans are tender-crisp. With slotted spoon, remove beans from Dutch oven to large bowl; discard water.
2. In same Dutch oven over medium-high heat, in 1/4 cup hot salad oil, cook eggplant, stirring frequently, until tender and browned on all sides; remove eggplant to bowl with beans.
3. In 3 more tablespoons hot salad oil, cook onions, green peppers, and carrots until tender-crisp, stirring frequently. Stir in curry powder; cook 1 minute. Return beans and eggplant to Dutch oven; stir in salt and 1 1/2 cups water. Over high heat, heat to boiling. Reduce heat to low; cover and simmer 10 minutes to blend flavors. Add tomatoes; heat through. Serve vegetables warm, or cover and refrigerate to serve cold later.