»

Recipes

»

Curd

»

Curd Rice / Yogurt Rice
Curd Rice / Yogurt Rice Recipe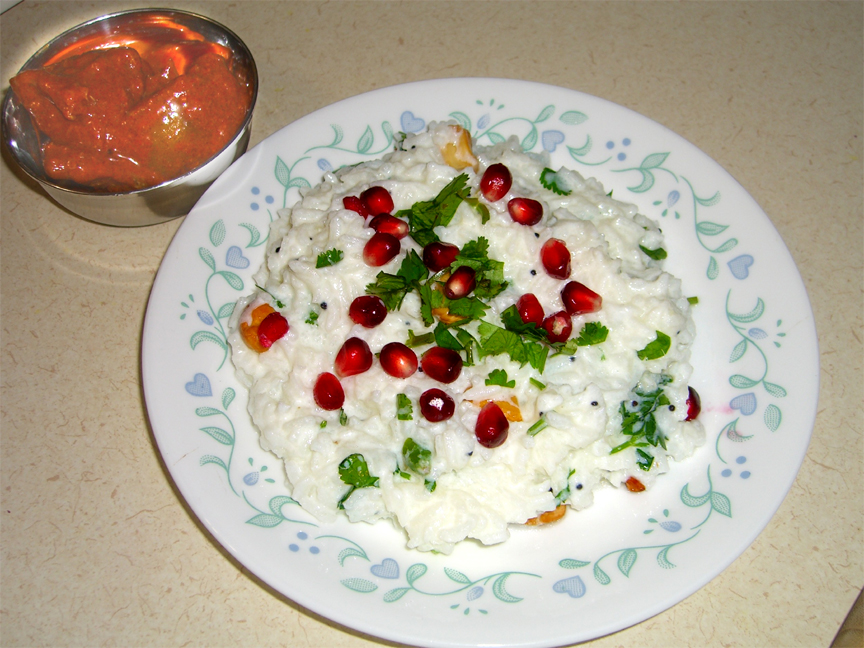 Summary
Preparation Time
10 Min
Cooking Time
5 Min
Ready In
15 Min
Difficulty Level
Easy
Health Index
Healthy
Servings
4
Ingredients
| | | |
| --- | --- | --- |
| | Cooked rice | 4 Cup (64 tbs) |
| | Yogurt | 1 Cup (16 tbs) |
| | Grated ginger | 1 Teaspoon |
| | Green chili | 3 |
| | Chopped cilantro | 2 Tablespoon |
| | Pomegranate seeds | 2 Tablespoon |
| | Curry leaves | 1 Tablespoon |
| | Urad dal | 1 Teaspoon |
| | Chana dal | 1⁄2 Teaspoon |
| | Mustard seeds | 1⁄2 Teaspoon |
| | Chopped cashew nuts | 1 Tablespoon |
| | Oil | 2 Tablespoon |
Nutrition Facts
Serving size
Calories 371 Calories from Fat 102
% Daily Value*
Total Fat 12 g17.9%
Saturated Fat 2.6 g12.8%
Trans Fat 0 g
Cholesterol 7.3 mg
Sodium 31.4 mg1.3%
Total Carbohydrates 58 g19.3%
Dietary Fiber 1.8 g7.1%
Sugars 4.5 g
Protein 8 g15.7%
Vitamin A 13.4% Vitamin C 35.6%
Calcium 9.4% Iron 17.4%
*Based on a 2000 Calorie diet
Directions
Take rice in a bowl. Add salt, ginger, green chillies and yogurt. Mix well.(The rice should not be hot or warm when mixing the yogurt).
Heat oil in a pan. Adfd mustard, When they splutter, add cashew and chana dal. Saute for a while.
Add urad dal and saute till they turn golden brown.
Add curry leaves and saute for few more seconds.
Pour this over rice and mix well.
Serve garnished with cilantro and pomegranate seeds along with lime pickle.

Shreedevi Nair-Pal says :
Your curd rice recipe is excellent. We South Indians very often take it with us on picnics and to office. So instead of adding all yogurt, we add some milk, so that it does not get too sour by lunchtime. Also, to thin the rice after a few hours, on a hot day I put in two or three cubes of ice. Also I add finely diced cucumber and halved green seedless grapes. The combination is great.
Posted on:
7 September 2009 - 3:44pm