»

Recipes

»

Curd
Curd Rice Recipe
Curd Rice is native to South-India. In telugu language, it is called 'Dadhojanam' or simply 'Perugu Annam' meaning Curd Rice. Dadhojanam is served commonly as 'prasadam' in most South-Indian temples. This easy-to-make dish is soothing to the tummy especially after having spicy food. It also serves as a great variation to the simple plain curd rice.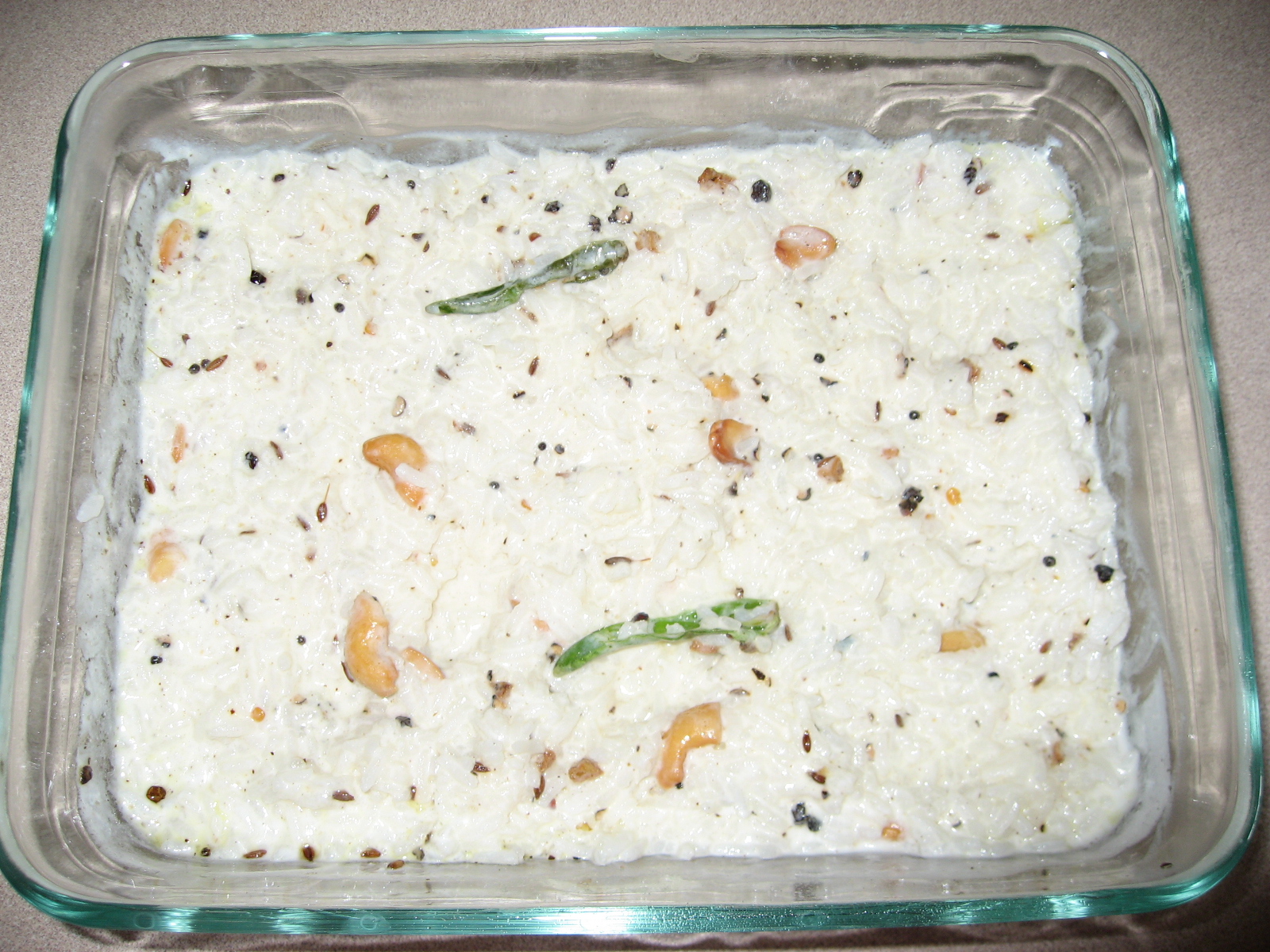 Ingredients
Cooked white rice

1 Cup (16 tbs)

Yogurt

3 Cup (48 tbs)

(curd)

Ground peppercorns

1⁄2 Teaspoon

(grounded coarsely)

Finely chopped ginger

1⁄2 Teaspoon

Chopped cashew nuts

1⁄4 Cup (4 tbs)

(a little less than 1/4th cup)

Cumin seeds

1⁄4 Teaspoon

Green chillies

3

, slit

Salt

To Taste
Nutrition Facts
Serving size
Calories 335 Calories from Fat 137
% Daily Value*
Total Fat 16 g24.7%
Saturated Fat 6.2 g31%
Trans Fat 0 g
Cholesterol 29.4 mg
Sodium 237.1 mg9.9%
Total Carbohydrates 35 g11.8%
Dietary Fiber 1.3 g5.2%
Sugars 12.5 g
Protein 13 g26.3%
Vitamin A 7% Vitamin C 42.7%
Calcium 29.9% Iron 12.9%
*Based on a 2000 Calorie diet
Directions
Heat 2 tbs oil in a pan. When hot, add cumin seeds and let them sizzle. Add finely chopped ginger, curry leaves, slit green chillies, cashews and finally coarsely ground peppercorns. Saute for a few seconds (until cashews brown slightly).
Remove from stove. Add yogurt/curd, salt and mix well.
Add this mixture to cooked rice. You can add a little water if the mixture is too thick.
Serve as a side dish or after a spicy supper to soothe the tummy.