»

Recipes

»

Cupcake

»

Classic Cupcake
Classic Cupcake Recipe
A classical vanilla cupcake recipe.Simple, easy to make and ready in no time at all these delicious cupcakes are great with a cup of cinnamon tea. Enjoy a splendid evening with a hot cup of tea and dig into a freshly baked batch of cupcakes.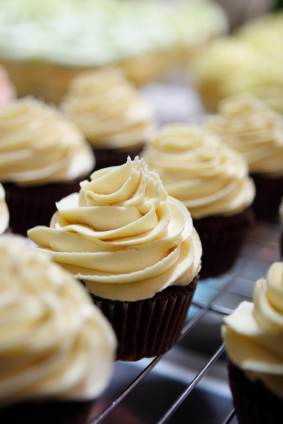 Ingredients
Flour

2 Cup (32 tbs)

, sifted

Salt

1⁄2 Teaspoon

Baking powder

2 Teaspoon

Butter

1⁄2 Cup (8 tbs)

Sugar

1 1⁄4 Cup (20 tbs)

Eggs

2 Small

Vanilla extract

1 Teaspoon

Milk

4 Tablespoon

(if required)
Nutrition Facts
Serving size
Calories 285 Calories from Fat 91
% Daily Value*
Total Fat 10 g15.9%
Saturated Fat 6.2 g30.8%
Trans Fat 0 g
Cholesterol 56.9 mg
Sodium 190.6 mg7.9%
Total Carbohydrates 45 g14.9%
Dietary Fiber 0.68 g2.7%
Sugars 25.5 g
Protein 4 g7.7%
Vitamin A 6.5% Vitamin C
Calcium 9.1% Iron 7.9%
*Based on a 2000 Calorie diet
Directions
The first thing that you do is to preheat the oven at 375 degrees.Get your cupcake tins ready by brushing them with some flour.Mix flour,baking powder & salt together.Cream butter & add sugar to it & mix it until it becomes fluffy.
Beat in eggs, one after each addition.Add vanilla to it.Here if you think the consistency is not as required you can add milk to it.Pour this batter in the cupcake tins & bake for 20 mintues.
i havent tried them yet but they sound delicious. can you please tell me the ingredients for the icing.
Posted on:
19 August 2012 - 4:45pm
Hi... Try this recipe, iv made it several times and it always turns out delicious. For the cupcakes: 11/2 cups all-purpose flour 11/2 teaspoons baking powder 1/2 teaspoon salt 1 cup granulated sugar 1/2 cup unsalted butter, softened 1/2 cup sour cream 1 large egg, plus 2 egg yolks, room temperature 11/2 teaspoons vanilla extract For the icing - 1 cup (16 tablespoons) unsalted butter, at room temperature 21/2 cups confectioners sugar 1 tablespoon good quality vanilla extract Preheat oven to 350 degrees F. Line standard muffin/cupcake tin with paper liners. Whisk together flour, sugar, baking powder, and salt in a bowl. In a bowl of mixer with paddle attachment add butter, sour cream, egg and egg yolks, and vanilla; beat at medium speed until smooth and satiny, about 30 seconds. Scrape down sides of bowl with rubber spatula Add flour mixture and mix by hand until smooth and no flour pockets remain. Spoon batter into cupcake cups. Bake until pale and toothpick inserted into center comes out clean, 20 to 25 minutes. Remove the cupcakes from tin and transfer to wire rack; cool cupcakes to room temperature before frosting. To make frosting whip the butter on medium-high speed until light and fluffy then gradually add the icing sugar beating at low. Then increase the speed to medium-high and add the vanilla, and beat until light and fluffy, about 2 minutes, scraping sides of bowl.
Posted on:
22 August 2012 - 2:07pm