»

Recipes

»

Bean

»

Cumin Scented White Beans
Cumin Scented White Beans Recipe
A simple to make Cumin Scented White Beans recipe. Yikes...I almost forgot...I'll keep this one short and sweet! First off, let me say...these taste a lot better than they look (what can I say, I'm still working on the picture thing;)). This is the recipe I promised for the beans that I served with my Simply Seared Tuna w/ Triple Herb Sauce. They literally take all of 10 minutes to throw together! Whenever I use beans from a can (which is most of the time), I always rinse them under cold water water after I drain them. This actually washes off about 60% of the extra sodium that canned goods tend to have. Then if you feel you're beans need a little extra salt, you can add it in yourself.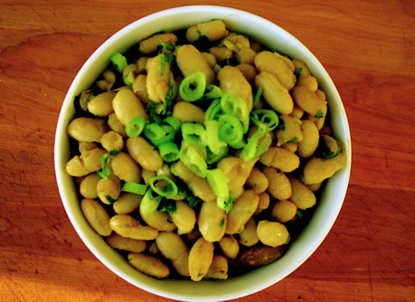 Ingredients
Canned white beans

30 Ounce

Garlic

2 Clove (10 gm)

, sliced

Cumin

2 Tablespoon

Vegetable broth/Chicken broth

1⁄2 Cup (8 tbs)

Sliced scallions

1⁄4 Cup (4 tbs)

Chopped cilantro

1 Cup (16 tbs)

Extra virgin olive oil

1 Teaspoon
Nutrition Facts
Serving size
Calories 234 Calories from Fat 25
% Daily Value*
Total Fat 3 g4.4%
Saturated Fat 0.3 g1.5%
Trans Fat 0 g
Cholesterol 0 mg
Sodium 70.5 mg2.9%
Total Carbohydrates 40 g13.5%
Dietary Fiber 9.6 g38.3%
Sugars 0.9 g
Protein 14 g27.8%
Vitamin A 21.3% Vitamin C 13.1%
Calcium 19.6% Iron 52.5%
*Based on a 2000 Calorie diet
Directions
1. Heat olive oil in a medium pot over medium high heat. Add garlic and sauté until fragrant.
2. Stir in cumin, allow to heat for 30 seconds or so, before adding broth and beans. Combine well and allow everything to heat through. Season with salt and pepper.
3. Just before serving stir in scallions and fresh cilantro!