»

Recipes

»

Indian

»

Dahi

»

Raita
Cucumber Raita Recipe
Easy to make cucumber raita recipe.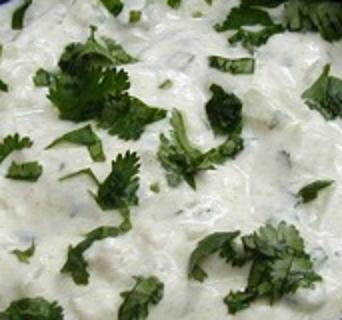 Summary
Preparation Time
5 Min
Cooking Time
5 Min
Ready In
10 Min
Difficulty Level
Very Easy
Health Index
Healthy++
Servings
3
Ingredients
Cucumber

2 Small

Cumin seeds

2 Teaspoon

Natural yogurt/Curds available in market

250 Gram

(thick set)

Salt

To Taste

Green chilies/Red chilli powder

1⁄2 Teaspoon
Nutrition Facts
Serving size
Calories 69 Calories from Fat 30
% Daily Value*
Total Fat 3 g5.4%
Saturated Fat 1.8 g9.1%
Trans Fat 0 g
Cholesterol 10.8 mg
Sodium 173.8 mg7.2%
Total Carbohydrates 7 g2.2%
Dietary Fiber 0.53 g2.1%
Sugars 4.6 g
Protein 4 g7.4%
Vitamin A 3.4% Vitamin C 6%
Calcium 13.7% Iron 13.1%
*Based on a 2000 Calorie diet
Directions
Peel the cucumber cut finely.
Heat a small pan and over low heat dry roast the cumin seeds until they turn a shade darker.
Allow the seeds to cool, then crush them.
Beat the yogurt until smooth. Stir in the cumin along with the salt.
Reserve a few slices of cucumber for garnish and add the rest to the yogurt. mix thoroughly.
Transfer the raita into a serving bowl and arrange the reserved cucumber on top.
Sprinkle red chilli powder evenly on the sliced cucumber.

Optional-Coriander/celery can be used for garnishing

Thanks Nisha for sharing this wonderful recipe of cucumber raita. This raita is also my favorite. As per my choice it is the best Indian condiment. It is truly delicious.
Posted on:
20 February 2008 - 2:46pm

I make this raita in a slightly different manner. In 1 tsp hot oil, I splutter mustard seeds, cumin seeds and a few curry leaves, also add thinly sliced green chillies, then add this seasoning to cucumber cubes mixed in thick yogurt with some salt to taste.
Posted on:
28 November 2007 - 6:37pm