»

Recipes

»

Halibut

»

Crusty Broiled Halibut
Crusty Broiled Halibut Recipe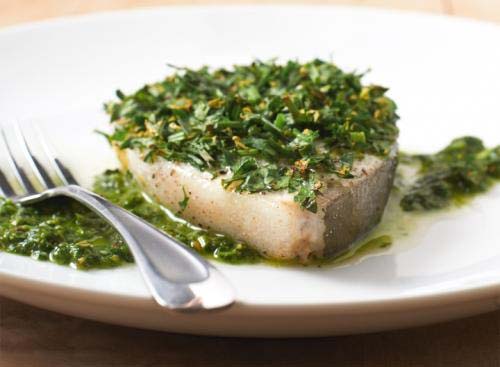 Ingredients
4 halibut steaks, 1 inch thick

Lemon

1

, sliced

Parsley for garnish

Melted margarine

1/2 Cup (16 tbs)
Directions
Seasoned breadcrumbs: 1 cup fine, dry white bread crumbs rolled smooth.
Mix with crumbs dash of salt, pepper, onion salt, garlic salt, paprika, dill weed, plus 1 teaspoon grated lemon peel.
Shake well before serving.
Preheat oven to 475°F.
Brush shallow baking dish with some melted margarine.
Arrange fish steaks in dish.
Brush steaks liberally with remaining margarine.
Sprinkle breadcrumbs liberally over steaks.
Pat gently with fingertips or spatula so crumbs will adhere to top of steaks.
Place steaks 3 inches from heat.
Fish is done when it flakes easily when tested with fork.