»

Recipes

»

Oyster

»

Crusty Fried Oysters
Crusty Fried Oysters Recipe
Crusty Fried Oysters is prefect appetizer. Crusty Fried Oysters gets its taste from oyster mixed with eggs and rolled in cracker crumbs. Crusty Fried Oysters is inspired by many restaurants across the world.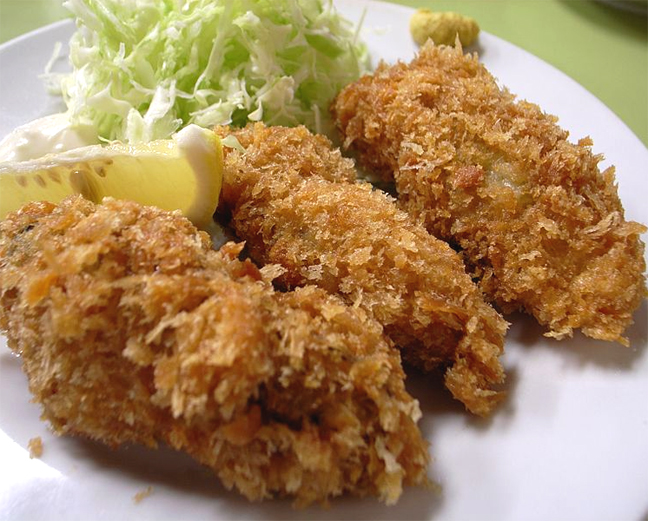 Ingredients
Egg

1

, beaten

Cold water

2 Tablespoon

Canned fresh select oysters

12 Ounce

, drained (1 Can)

Salted cracker crumbs

1 1⁄2 Cup (24 tbs)

Vegetable oil

2 Cup (32 tbs)

(For Frying)
Nutrition Facts
Serving size: Complete recipe
Calories 4953 Calories from Fat 4192
% Daily Value*
Total Fat 473 g727%
Saturated Fat 61.8 g308.8%
Trans Fat 0 g
Cholesterol 391.5 mg
Sodium 2153.1 mg89.7%
Total Carbohydrates 123 g41%
Dietary Fiber 15.5 g62.1%
Sugars 9.9 g
Protein 58 g115.6%
Vitamin A 4.9% Vitamin C
Calcium 2.7% Iron 5.1%
*Based on a 2000 Calorie diet
Directions
Combine egg and water.
Dip oysters in egg mixture, and roll each in cracker crumbs.
Fry in hot oil (375°) about 2 minutes or until golden brown, turning to brown both sides.
Drain on paper towels.
Image Courtesy :
http://commons.wikimedia.org/wiki/File:Deep_fried_oysters_by_Kossy@FINEDAYS_in_Akabane.jpg