»

Recipes

»

Corn

»

Crunchy Corn
Crunchy Corn Recipe
Are you looking for an assured to be tasty Crunchy corn recipe? I just love Side Dish recipes and this dish is my only favorite amongst them. Just try this Crunchy corn recipe, and you will never want to go for another recipe again.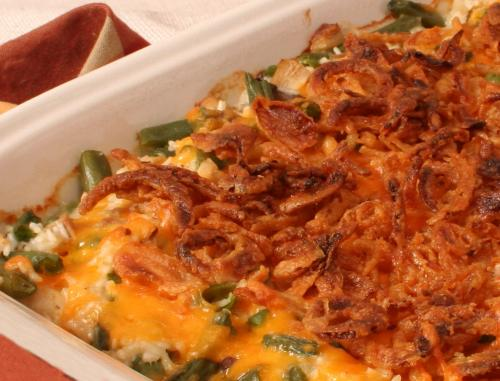 Ingredients
Onion rings-1, (3 1/2-ounces) can

Green pepper

1/2 Cup (16 tbs)

, chopped

Butter

1 Teaspoon

Cream-style corn-1 (1pound) can

Pimento

2 Teaspoon

, chopped

Egg

1
Directions
GETTING READ
1)Crush onion rings.

MAKING
2)In a pan, heat butter and sauté until soft.
3)Fold in corn, pimento, egg and 1/2 of the onion ring crumbs.
4)Take a 1 1/2-quart casserole and put the mixture in it.
5)Bake at 350 degrees for 25 minutes or until firm.
6)Then, sprinkle remaining onion ring crumbs on top and bake for 5 minutes.

SERVING
7)Serve the crunchy corn hot.