»

Recipes

»

Pie

»

Pear Pie

»

Crunchy Pear Pie
Crunchy Pear Pie Recipe
This Crunchy Pear Pie is one of the most well-loved desserts. With this relatively simple recipe, this Crunchy Pear Pie is made in no time. Perfect to go for a satisfying breakfast pick too!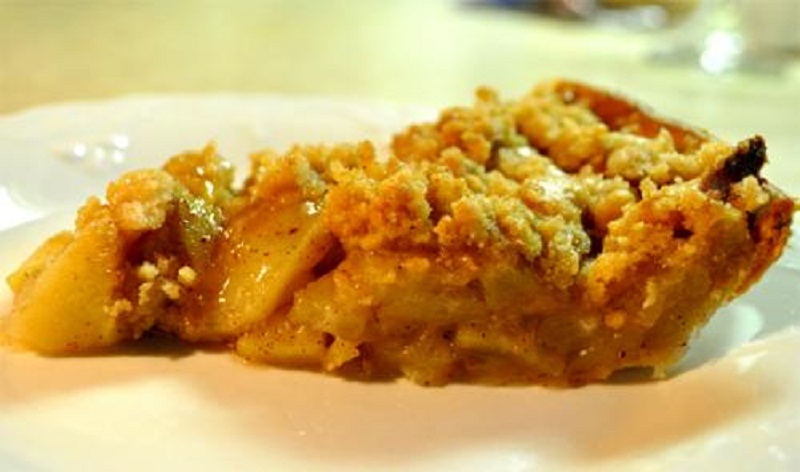 Ingredients
Sugar

1/4 Cup (16 tbs)

Cornstarch

2 Tablespoon

Salt

1/8 Teaspoon

Ginger

1/2 Teaspoon

, divided

1 1/2 cups juice drained from pears

1 teaspoon grated lemon rind

Lemon juice

1 Tablespoon

Pear

2 Cup (16 tbs)

, drained

1 unbaked 9-inch pie shell

Flour

1 Cup (16 tbs)

, sifted

Brown sugar

1/2 Cup (16 tbs)

, firmly packed

Butter/Margarine

1/2 Cup (16 tbs)
Directions
Combine sugar, corn starch, salt and 1/4 teaspoon ginger in a saucepan.
Blend in pear juice.
Cook over medium heat, stirring constantly, until mixture thickens and comes to a boil.
Remove from heat.
Add lemon rind and lemon juice.
Cut pear halves in half lengthwise, arrange in pastry shell.
Pour thickened syrup over top of pears.
Blend together flour, brown sugar, butter and remaining sugar with a pastry blender until mixture looks like coarse crumbs.
Stir in nuts.
Sprinkle over top of pears.
Bake in a hot oven (425°F.) 20 to 25 minutes.
Makes one 9-inch pie.