»

Recipes

»

European

»

Baked Crumpets
Baked Crumpets Recipe
Crumpets is simply irresistible, to say the least! Try this Crumpets; I am sure you'll have a huge fan following for this one.
Hot Crumpets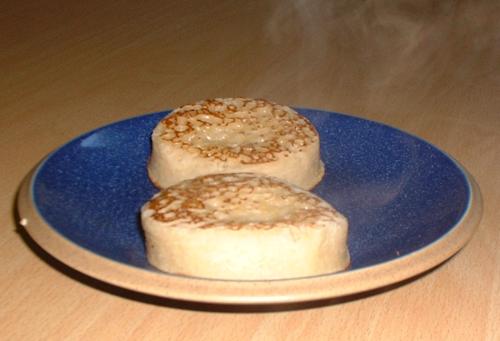 Ingredients
Lukewarm water

2 Cup (32 tbs)

Yeast

1 Tablespoon

(1 Package)

Mashed potatoes

1⁄4 Cup (4 tbs)

Salt

3⁄4 Teaspoon

Flour

1 3⁄4 Cup (28 tbs)

, sifted (Approximately)
Nutrition Facts
Serving size: Complete recipe
Calories 1009 Calories from Fat 20
% Daily Value*
Total Fat 2 g3.7%
Saturated Fat 0.38 g1.9%
Trans Fat 0 g
Cholesterol 0 mg
Sodium 1530.8 mg63.8%
Total Carbohydrates 216 g72.1%
Dietary Fiber 12 g48.2%
Sugars 0.6 g
Protein 29 g57.6%
Vitamin A Vitamin C 37%
Calcium 5.1% Iron 59.2%
*Based on a 2000 Calorie diet
Directions
1. Pour the water into a two-quart bowl. Add yeast and let stand until softened. Add potatoes, salt and flour. Mix well, using a wooden spoon, and then beat three minutes. The batter should be thin. Cover and let stand in a warm place thirty minutes.
2. Beat again three minutes and let stand thirty minutes longer. Repeat process once more.
3. Place a griddle over medium heat, grease it lightly and arrange six greased crumpet rings on it. When the griddle is hot, beat the batter briefly and spoon it into the rings, filling each about one-third full.
4. Bake until the surface is dry and the bottom is brown. Remove rings, turn crumpets and brown the second side very lightly. Cool on a rack.
5. Toast to heat.