»

Recipes

»

Pie

»

Crumb-Top Apple Pie
Crumb-Top Apple Pie Recipe
Crumble top apple pie is a baked apple pie set in a pastry shell. Prepared with a crumbly and crusty flour, sugar and butter topping, the crumb top apple pie is made with tart apples and spiced with cinnamon. It can be served with ice cream or even apple sauce.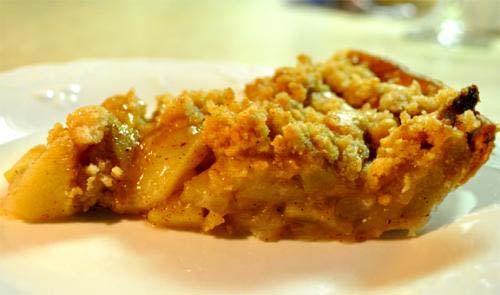 Ingredients
Sugar

1⁄4 Cup (4 tbs)

Ground cinnamon

1⁄4 Teaspoon

Sliced tart apples

1 1⁄2 Cup (24 tbs)

, cored and pared

Pastry shells

2

, unbaked (Measuring Around 5 Inch Each)

Sugar

1 Tablespoon

All purpose flour

2 Tablespoon

Butter/Margarine

1 Tablespoon
Nutrition Facts
Serving size
Calories 1480 Calories from Fat 55
% Daily Value*
Total Fat 84 g128.9%
Saturated Fat 3.9 g19.4%
Trans Fat 0 g
Cholesterol 16.1 mg
Sodium 1.2 mg0%
Total Carbohydrates 172 g57.3%
Dietary Fiber 3.5 g13.8%
Sugars 50.2 g
Protein 18 g35.6%
Vitamin A 3.8% Vitamin C 421.8%
Calcium 11.9% Iron 4.2%
*Based on a 2000 Calorie diet
Directions
Combine the 14 cup sugar and the cinnamon; mix with apples; arrange in pastry shells.
Combine the 1 tablespoon sugar and the flour.
Cut in butter till crumbly; sprinkle over apples.
Bake in hot oven (400°) for 35 to 40 minutes or till apples are tender and topping browned.
Cool; serve with ice cream, if desired.