»

Recipes

»

Lamb
Crown Roast Of Lamb Recipe
Crown Roast of Lamb has always been a fondly eaten mealtime dish of my family. Want to please your family too? Then try out this recipe of the Crown Roast of Lamb. Don't forget to quote the compliments you get after your family enjoys the recipe. I'm waiting !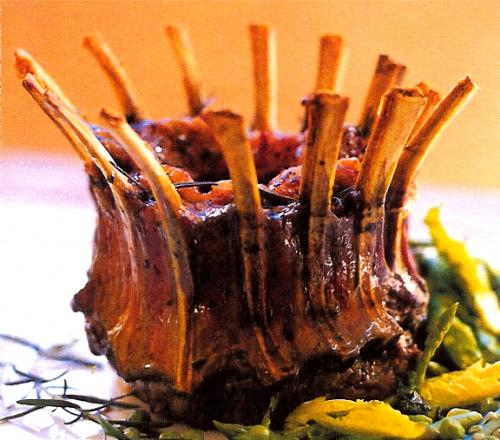 Ingredients
Crown roast of lamb

1

(12-16 cutlets)

Salt

To Taste

Black pepper

To Taste
Nutrition Facts
Serving size
Calories 349 Calories from Fat 290
% Daily Value*
Total Fat 32 g49.6%
Saturated Fat 14.2 g71.1%
Trans Fat 0 g
Cholesterol 71.1 mg
Sodium 101.4 mg4.2%
Total Carbohydrates 0.08 g0.03%
Dietary Fiber 0.03 g0.13%
Sugars 0 g
Protein 13 g26.5%
Vitamin A 0.01% Vitamin C 0.04%
Calcium 1.7% Iron 4.8%
*Based on a 2000 Calorie diet
Directions
The butcher will shape your crown roast from two racks of ribs, each containing 6-8 chops.
If the lamb has a thick fat coverage, ask to have some of the fat trimmed off before shaping and sewing the crown roast.
To cook, place crown roast in a roasting pan - no rack is required - season with pepper, rub salt into fat surface only,and cover ends of bones with small pieces of aluminium foil to prevent them scorching.
Roast in a moderate oven for I 1/4-l 1/2 hours, depending on size of chops.
If desired, the centre of the crown roast may be filled, before roasting, with a stuffing .
When the meat is cooked keep warm while making gravy .Remove aluminium foil and place a paper frill on each bone.
To serve, carve between chops.