»

Recipes

»

Steak

»

Crispy Broiled Salmon Steaks
Crispy Broiled Salmon Steaks Recipe
This Crispy Broiled Salmon Steaks recipe is good enough to surprise your family in a pleasant way. This European Crispy Broiled Salmon Steaks is a delicious Main Dish . This Crispy Broiled Salmon Steaks is surely going to make you famous amongst your friends once they taste it. Try it right away!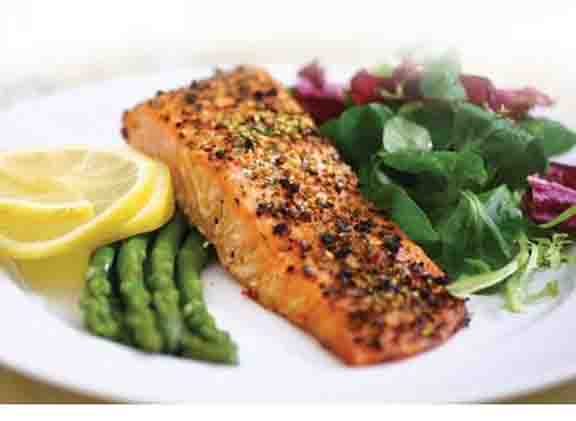 Ingredients
Butter/Margarine

1/2 Cup (16 tbs)

, melted

Salt

1 Teaspoon

Paprika

1/8 Teaspoon

Salmon steaks - 6(6- to 8-oz size), 3/4 inch thick

Saltines - 1 cup, crushed

Potato chips

1 Cup (16 tbs)

, crushed

Lemon wedges

6

Parsley sprigs

6
Directions
GETTING READY
1. Wipe steaks with damp cloth.

MAKING
2. Combine butter, salt, and paprika. Dip each into butter mixture; then roll in combined saltines and potato chips.
3. Arrange steaks on lightly greased broiler rack in broiler pan. Broil, 6 inches from heat, 5 minutes. Turn; broil 5 to 8 minutes, or until fish flakes easily with fork.

SERVING
4. Serve each steak with a lemon wedge and parsley sprig.