»

Recipes

»

Trout

»

Crispy Fried Trout
Crispy Fried Trout Recipe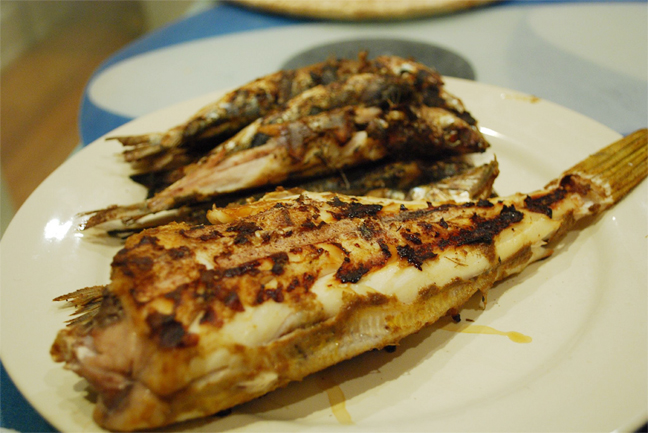 Ingredients
| | | |
| --- | --- | --- |
| | Trout | 6 Small |
| | Milk | 1 Cup (16 tbs) |
| | Celery salt | 1⁄2 Teaspoon |
| | Onion salt | 1⁄2 Teaspoon |
| | Garlic salt | 1⁄2 Teaspoon |
| | Black pepper | 1⁄4 Teaspoon |
| | White corn meal | 2⁄3 Cup (10.67 tbs) |
| | Bacon slices | 12 |
| | Butter/Margarine | 1⁄3 Cup (5.33 tbs) |
| | Lemon | 1 |
Nutrition Facts
Serving size
Calories 349 Calories from Fat 181
% Daily Value*
Total Fat 20 g31.3%
Saturated Fat 8.9 g44.4%
Trans Fat 0 g
Cholesterol 93.4 mg
Sodium 507.7 mg21.2%
Total Carbohydrates 17 g5.6%
Dietary Fiber 1.7 g6.7%
Sugars 2 g
Protein 25 g49.6%
Vitamin A 8.3% Vitamin C 13.3%
Calcium 9.6% Iron 12.6%
*Based on a 2000 Calorie diet
Directions
GETTING READY
1)Split the trouts and clean them.
2)Cut away the heads and tails of the trouts.

MAKING
3)In a small bowl, mix the onion salt, garlic salt, celery salt and black pepper.
4)In a bowl of milk, dip in the trouts.
5)Sprinkle the seasoning over the trouts and roll in corn meal
6)In a frying pan, fry the bacon till it turns crisp. Set it aside in a warm place.
7)Add in some butter to the bacon fat that is left in the frying pang.
8)Put in the trouts and fry till they turn brown and crisp.

SERVING
9)Remove from heat and place the skewers on a tray. Serve hot.
Image Courtesy :
http://www.flickr.com/photos/avlxyz/4646511333/