»

Recipes

»

Crispy Artichoke Chips
Crispy Artichoke Chips Recipe
Oh the artichoke, what a lovely, lovely thing to eat. If you are looking for a new way to enjoy this amazing vegetable, try these artichoke heart chips. They are light and full of flavor. Perfect as a garnish or a snack.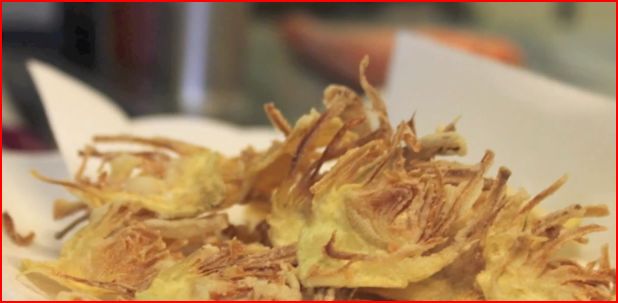 Summary
Preparation Time
10 Min
Difficulty Level
Medium
Health Index
Just Enjoy
Servings
3
Ingredients
Artichoke

8 Small

, cleaned and prepped

Canola oil/Vegetable oil

1 Cup (16 tbs)

(for frying the chips)

Flour

1 Cup (16 tbs)

(for dredging the chips)

Salt

1 Teaspoon

(to taste)

Black pepper

1 Teaspoon
Nutrition Facts
Serving size
Calories 982 Calories from Fat 674
% Daily Value*
Total Fat 76 g117.4%
Saturated Fat 5.8 g28.8%
Trans Fat 0.3 g
Cholesterol 0 mg
Sodium 968.4 mg40.3%
Total Carbohydrates 69 g22.9%
Dietary Fiber 20 g80%
Sugars 3.5 g
Protein 16 g31.3%
Vitamin A 1% Vitamin C 67.1%
Calcium 16.4% Iron 37.7%
*Based on a 2000 Calorie diet
Directions
GETTING READY
1.Cut the outer tough leaves of the artichokes. Cut about an inch from the top and peel from the sides to obtain a cleaned artichoke heart.
2.Using a mandolin slicer, slice the artichoke hearts thinly.
MAKING
3.Dredge the artichoke slices in flour.
4.In a deep fryer, heat the vegetable oil to 350 degrees Farenheit.
5.Drop the artichoke chips and fry till they are golden and brown around the edges.
6.Place the chips on a cloth and season with salt.
SERVING
7.Serve as a snack or use as a garnish for other dishes.
Recipe Courtesy of:
cookingstoned.tv