»

Recipes

»

Cookie

»

Crispy Peanut Butter Cookies
Crispy Peanut Butter Cookies Recipe
This delicate, yet extremely delicious bite of Crisp Peanut Butter Cookies. Try out this simple recipe for deliciously crisp cookies.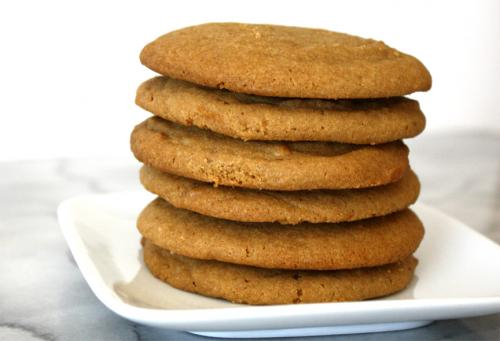 Ingredients
Margarine

1 Cup (16 tbs)

Peanut butter - 1 cup, creamy or chunk style

Sugar

1 Cup (16 tbs)

Brown sugar

1 Cup (16 tbs)

, firmly packed

Eggs

2 Small

, beaten

Vanilla

1 Teaspoon

Flour

2 1/2 Cup (16 tbs)

, sifted

Baking powder

1 Teaspoon

Baking soda

1 Teaspoon

Salt

1 Teaspoon
Directions
GETTING READY
1) Grease a cookie sheet.

MAKING
2) In a bowl, combine the margarine, peanut butter, and sugars and beat well.
3) Add in the eggs and vanilla.
4) Combine and sift the baking powder, baking soda, and salt.
5) Mix into the creamed mix.
6) Stir till well blended.
7) Refrigerate till well set.
8) Pinching little dough at a time, form 1-inch balls.
9) Arrange about 2 inches apart on the cookie sheet.
10) Using the bottom of a glass or a floured fork, flatten the cookies. If using a fork, make a crosswise pattern on each cookie.
11) Place in the oven at 350°F and bake for 12 to 15 minutes, till lightly browned.

SERVING
12) Serve as a snack.