»

Recipes

»

Pancake

»

Crispy Pancake Rolls
Crispy Pancake Rolls Recipe
These crisp pancake rolls are perfect for serving for breakfast. I make these pancake rolls often and they are very filling and savory. Flavored with mixed herbs and filled with chicken along with eggs, these crisp pancake rolls will keep you full for hours till lunch!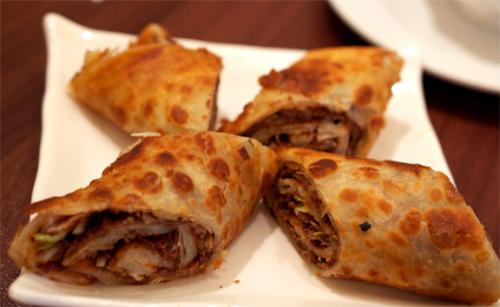 Ingredients
6 pancakes, about 6 inches across

Egg

1

2-3 oz. fine, stale white breadcrumbs

Butter

3 Tablespoon

Olive oil

3 Tablespoon

Onion

1 Medium

(For the filling:)

Finely chopped

Olive oil

1 Tablespoon

(For the filling:)

6 oz. cooked chicken meat, coarsely minced

Parsley

2 Tablespoon

, chopped (For the filling:)

Mixed herbs

1/4 Teaspoon

, dried (For the filling:)

Egg yolk

1

(For the filling:)

Double cream

2 Tablespoon

(For the filling:)

Milk

2 Tablespoon

(For the filling:)

Salt

To Taste

(For the filling:)

black pepper

1

(For the filling:)
Directions
To make the filling, heat the olive || oil in a pan and fry the onion until soft and golden.
Remove the onion from the pan and mix with the remaining filling ingredients, adding salt and freshly ground black pepper to taste.
Place 2 tablespoons of filling in the centre of a pancake.
Fold two sides of the pancake over the filling and roll up into a neat, secure parcel.
Repeat with the remaining pancakes.
Beat the egg with a tablespoon of water in a dish.
Add a little seasoning.
Coat each pancake with beaten egg mixture then coat with breadcrumbs.
Heat equal quantities of butter and oil in a frying pan and fry the pancake rolls for about 8 minutes or until crisp and golden brown on all sides.
Drain well and serve immediately.