»

Recipes

»

Cucumber

»

Crispy Cucumber Slices
Crispy Cucumber Slices Recipe
Crispy cucumber slices are the best appetizers that can be served with summer dinner. The watery, crispy and yummy cucumbers are full of health and taste together. Cucumbers are known for their health benefits, and there can't be a better way to serve them.
Cucumber Salad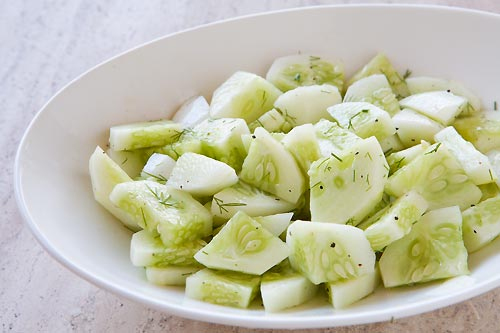 Ingredients
Sugar

2 Tablespoon

Salt

1 Teaspoon

Pepper white

1⁄8 Teaspoon

Monosodium glutamate

1⁄4 Teaspoon

Celery seed

1 Teaspoon

Cider vinegar

1⁄4 Cup (4 tbs)

Lemon juice

7 Tablespoon

Cucumber

1

Onion

1⁄4 Cup (4 tbs)

, chopped

Parsley

2 Tablespoon

, chopped
Nutrition Facts
Serving size
Calories 56 Calories from Fat 4
% Daily Value*
Total Fat 0.43 g0.66%
Saturated Fat 0.06 g0.28%
Trans Fat 0 g
Cholesterol 0 mg
Sodium 588.9 mg24.5%
Total Carbohydrates 13 g4.4%
Dietary Fiber 0.9 g3.6%
Sugars 9.3 g
Protein 0.92 g1.8%
Vitamin A 13.5% Vitamin C 40.1%
Calcium 4.4% Iron 6.8%
*Based on a 2000 Calorie diet
Directions
MAKING
1) In a bowl, mix together sugar, salt, pepper, monosodium glutamate, celery seed, vinegar and lemon juice.
2) Score cucumber by drawing tines of fork lengthwise over entire surface.
3) Cut it into 1/4-inch thick slices.
4) Put the cucumber slices into vinegar mixture with onion and parsley.
5) Toss to coat evenly and chill for 3 hours. Keep stirring.

SERVING
6) Serve the crispy cucumber slices chilled.